Medical
Make A Difference In The Lives Of Others
Advances in the medical sector are progressing rapidly and many companies are being left behind in the pursuit for cutting-edge products.
This has created many new challenges, not least in the increase in demand for titanium and titanium alloys used for medical implants and cathode grids used in pacemaker batteries.
Titanium is renewed for its strength and lightweight properties, but it is difficult to etch due to it rapidly forming a protective oxidized coating when exposed to air. Traditionally, Hydrofluoric Acid (HC) and Nitric mix has been used as the preferred etchant, but it is a highly dangerous and toxic material and one we are not keen to use. Instead, we have developed a new solution…
An Intensive R&D Programme
ACE has responded by investing time and money into developing a unique process for etching titanium and its alloys. We can successfully etch and profile metal for customers involved in producing intricate medical devices, which may have complex mesh patterns or require micro-etched channels.
Exotic materials
ACE can also make medical implants in other exotic materials, such as Cobalt Alloy, Elgiloy®️, Nitinol & medical grades of Sandvik & Nickel.
We are also capable of etching other medical approved alloys, including Stainless Steels.
Benefits of using ACE for the Medical Industry
Medical Approved

The ACE process can etch all medically approved metals, such as Stainless Steel & Sandvik. We are Europe's only production line for Titanium etching.

Specialist Technology

We offer several additional post-process technologies, including forming, finishing and plating. These help our customers produce both 2D and 3D finished components.

Etching Microchannels

The ACE etching process can produce extremely fine microchannels in either Titanium alloys or Stainless Steel etching.

Metal Implants

ACE etch many thousands of titanium mesh designs for customers from cranial and facial implants to high precision mesh for dental implants. After etching, the parts are completely stress & burr-free and can be supplied coloured.

Right First Time

Our new process allows for the manufacture of burr-free and stress-free components within a few days, with the guarantee that they will be 'right first time'.

Chemical Properties

Our process does not affect the chemical and mechanical properties of the metal.
Types of etched components supplied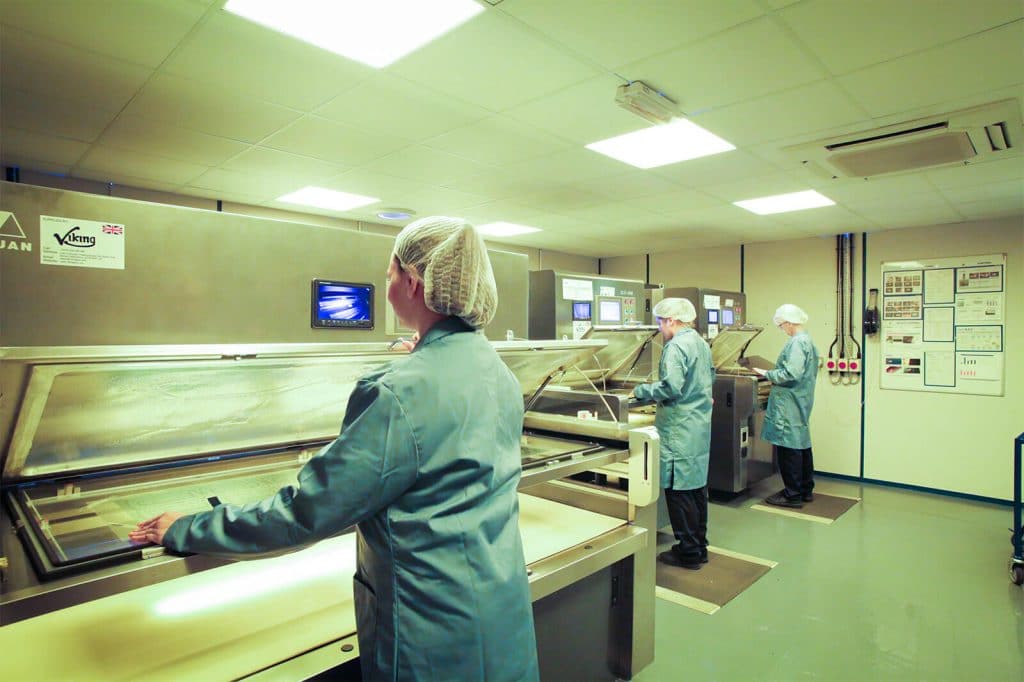 Flexible and rigid meshes
Medical device electronics
Flexible and rigid meshes
Medical device components
ACE is revolutionising the Medical Industry
Titanium etching is conventionally carried out using Hydrofluoric Acid (HF), which is a major health and safety hazard with the fluoride ion readily penetrating the skin, damaging deep tissue layers and bone. Moreover, both HF and nitric acid tend to attack most types of photoresists, ultimately causing detachment of the photoresist.

With the development of ACE's new non-HF process, many customers are already switching on to this unique solution and tapping into our ability to provide burr-free, stress-free components within a few days to keep up with the medical sector's demand for 'right first time' products.

Metals for medical components are characterised by their high strength-to-weight ratio, biocompatibility and corrosion resistance, all attributes which make them difficult to machine using traditional profiling technologies.

We supply a wide range of medical parts, including complex, burr and stress-free cranial mesh and dental implants, thin Titanium battery grids used in pacemakers, hearing aid components and bone saw blades with tight tolerance teeth.