Renewable

Energy
The Wind Of Change
ACE is a critical supplier to the renewables sector, with our ability to produce specialist prototypes and low volume components helping us secure work across the world.
Working with many customers from the alternative energy sectors, we use the flexibility of photo etching to supply parts in many different types of metal and thicknesses, ranging up to 2.5mm.
We can also control many unique features to the etching process and additional operations, such as forming, coating with special materials, brazing, bonding and assembly of parts.
Components we produce range from new types of home heating products and aircraft cooling systems to ice protection heater elements, electric vehicle busbars and bipolar fuel cell plates.
These can be supplied in a range of metals. ACE offers aluminium etching, titanium etching and stainless steel etching, as well as a range of nickel-chromium super alloys.
Major Success Stories
ACE has enjoyed some major success stories and are heavily involved in the emerging fuel cell market, in the manufacture of aerospace heat exchangers and mechanical components to wind turbines.
Continued Investment
Continued investment in our process at our expanding Telford plant will ensure we stay at the forefront of new developments in renewables.
Why ACE And Photo Etching Are The New Leading Partners For Renewables – A Better Alternative
A Better Alternative

Many energy-related products manufactured by ACE are from metals which exhibit excellent strength-to-weight ratio, corrosion resistance and low-coefficient of thermal expansion.

A Variety of Metals

Renewable sector metals are challenging to manufacture using conventional processing and often require costly rework, whereas our process gives net shape finished parts.

Client Involvement

We work with clients at the earliest stage of design, adding value throughout and using our knowledge of photo etching to offer solutions for high performance/lightweight parts.

Simultaneous Etching

As there is no thermal cycle when metal is processed using photo etching, complex channels and geometries can be photo etched on parts simultaneously.

Maximised Efficiency

Our photo etching process maximises thermal efficiency. Plates, which require subsequent brazing or bonding, also remain perfectly flat.

Endless Features

Using photo etching, complex micro etched cooling channels and other features can be incorporated into heat exchanger plates and bipolar fuel cell plates.
Types of etched components supplied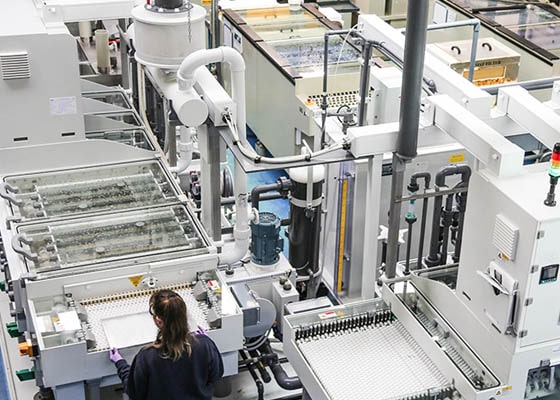 Busbars for electric vehicles
Etched blades for wind turbines
Precision shims & gaskets
Leadframes for electronic packages
Kinetic energy recovery system components