COMMUNICATIONS

& ELECTRONICS
Technology For Innovators
Whether the component is a micro connector for a mobile phone or a large screening can for a base station, ACE plays a significant role in connecting the world.
We can handle micro-sized parts in microelectronics to heavy-duty lead frames and busbars.
Our fast turnaround, speed of response and proven manufacturing track record makes us a perfect partner for engineers working in a sector where the demand for everchanging and evolving products is relentless.
More Complexity, Same Price
Part cost does not increase with complexity, which allows designers to ask for more complex designs to achieve their design targets.
Low-Risk Product Development
Thanks to CAD tooling, the photo etching process is low-risk for product development. Customers get their new designs to market quicker than their competitors. Once the prototype design has been approved moving to higher volumes is easy.
ACE is revolutionising the Electronics Industry
EMI /RFI Shielding

ACE supply thousands of screening cans in various metals. We offer stainless steel etching, copper etching, nickel alloys and aluminium etching.

Screening cans can be produced either formed or flat with half etched fold lines for hand forming by the customer. Screens can also be supplied with selective electrical insulation coating on either flat or formed parts.

Automotive/Aerospace Electronics

ACE supply many types of busbars and heavy gauge lead frames, up to 2mm thick and usually in copper or aluminium. The photo etching process has the capability to etch steps in the metal to place electronic components, whilst busbars can be 3D formed and then plated either all over or selective.

In-house Processes

ACE offers a wide range of in-house processes, including forming (hard form and forming using fold lines), spot welding, machining and assembly.

Metal Plating

Many parts require surface finish and we can supply parts plated in sheet or as loose parts. This could be gold, silver, tin, nickel, anodising and passivation.

Small Scale Precision

ACE supply many micro precision components in thicknesses as low as 5 microns, some of these parts could fit nicely on a pencil point.

Photographic Tooling

Because of digital photographic tooling, ACE can supply customers multi-part tooling, giving them the flexibility to include several design variations on one sheet of metal.
Once the sample sheet has been supplied the client, they can then choose the best design and we use the same data to produce a photo tool for higher volumes. The photo tooling can be modified in a matter of minutes to produce samples in hours, not days or weeks.

Semi-Conductors

ACE supply millions of etched lead frame strips quickly, in either copper or nickel alloys. We also supply millions of cooling plates with complex etched channel designs for semi-conductor customers in various metals. We do this through processes such as stainless steel etching, nickel alloy etching and titanium etching.
Types of etched components supplied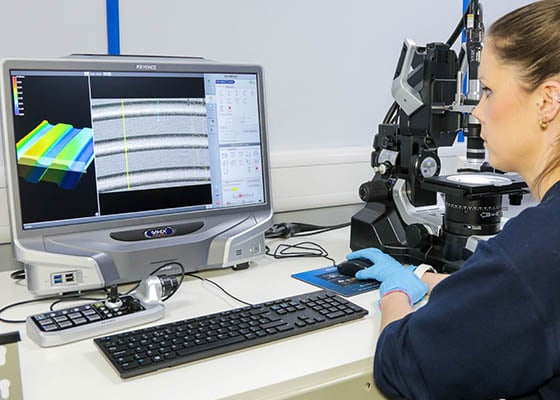 Lead frames
(Electronics)
EMI/RFI shielding
(Electronics)
Semiconductor cooling plates
(Electronics)
Squeegee blades
(Electronics)
Connectors and contacts
(Electronics)
Shims, gaskets and washers
(Electronics)
Springs, flexures and diaphragms
(Electronics)
Communication Components:
Connectors
(Communications)
Screen cans
(Communications)
Heat sinks
(Communications)
RFI finger strip
(Communications)
Busbars for base stations
(Communications)
Terminals
(Communications)