Electric

Vehicles
Chemical Etching For Electric Vehicles
ACE, one of the largest specialist metal component manufacturers in Europe, is innovating and developing a number of manufacturing processes to meet the needs of EV (Electric Vehicle) systems.
Typical components for this application include bus bars from Copper or Aluminium, cooling and heat exchanger plates, manufactured using a unique chemical etching process within ACE's state of the art facility in Telford.
Driving EV Forward
ACE's focus on bringing innovation and evolution to the electric vehicle sector is driving the development of the next generation of EV vehicles.
Developing The Future
Our strong focus on the development of ever more accurate chemical etching techniques means that ACE remains at the forefront of EV components manufacturing capability and capacity.
How Precision Etching Overcomes Material Limitations Within EV Components
EV Battery Systems

EV battery systems comprise of modular cells which can be utilised in varying multiples depending on the output required. These cells have an electro-mechanical interconnect between each other known commonly as a bus bar.

Bus Bars

The bus bar needs to maintain the inherent thickness to be able to conduct the necessary current output. However, upon contact with the cells, the bus bar needs to be permanently fixed to the cell contacts.

Heat Fixing Limitations

This is when thickness can become a problem. Usual methods of fixing, like laser welding, require heat and thus the heat required to penetrate the full thickness is so much that further damage occurs within the cell.

Etching As A Solution

Chemical etching can remove metal locally, providing the required thickness at the point of contact with the cell while maintaining maximum cross-sectional area across the remainder of the bus bar to address the current conduction requirements.

Added Benefits

Not only does chemical etching offer the benefits stated previously, but as material is removed it also offers the added benefit of weight reduction which again is a key critical element for EV designers to increase the range of future vehicles.

Secondary Operations

ACE can perform a number of added value services that are required when manufacturing certain EV components including metal forming, plating and heat-treating.
Typical Etched Components for EV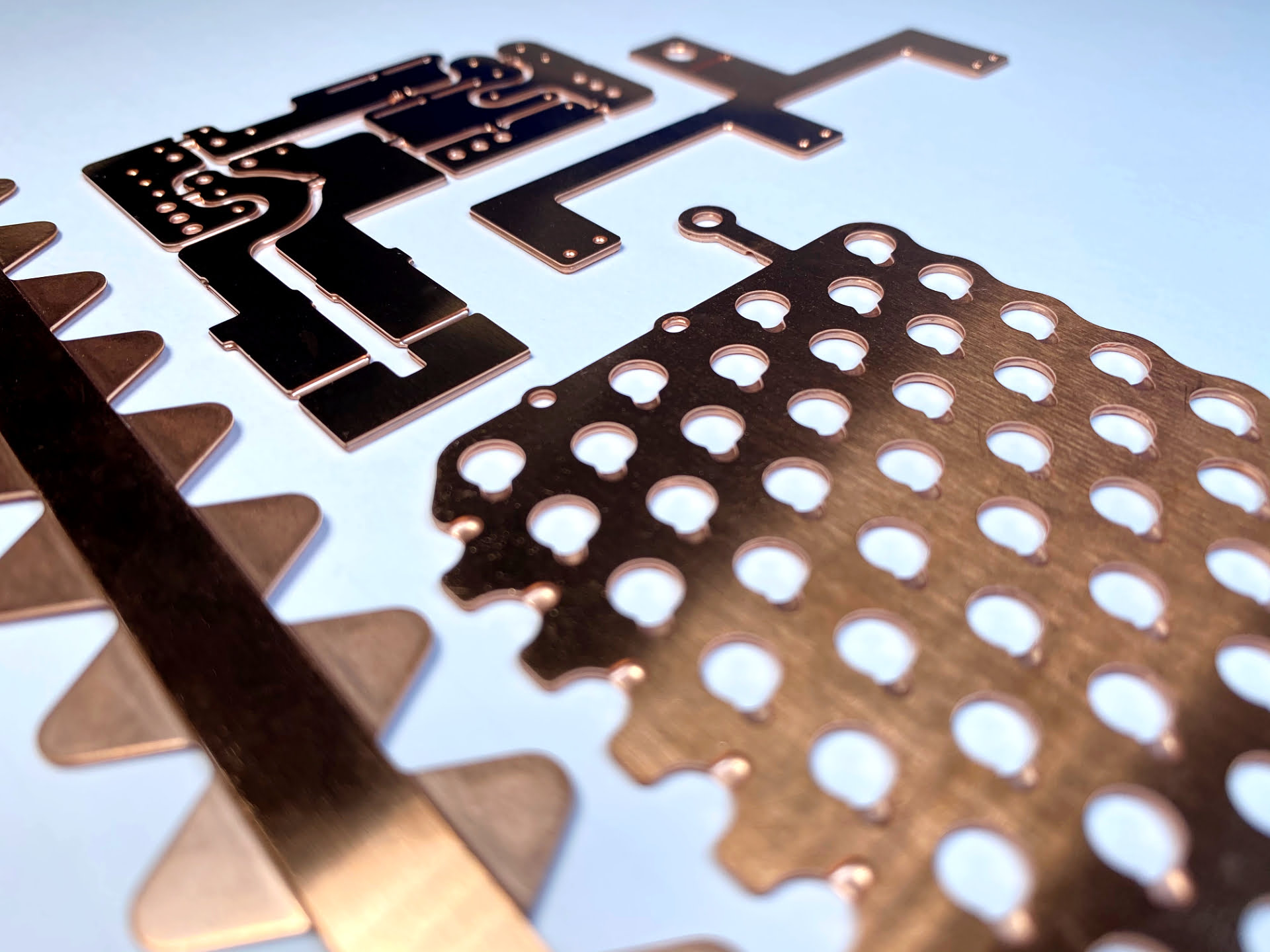 Internal decorative components