STAINLESS STEEL

ETCHING
What is Stainless Steel Etching?
Stainless steel etching is a specialised metal etching process, using corrosive chemicals to etch complex shapes from sheets of stainless steel metal. Stainless steel etching is a highly accurate process that produces parts with a high level of complexity with no mechanical stress placed on the material. 
  We are a market leader in precision stainless steel etching, chemically etching millions of components each month using a wide variety of different grades, such as the austenitic (300 series) and martensitic (400 series) steels. ACE specialises in this type of metal etching, and can chemical etch stainless steel in thickness ranges of 0.005mm to 2.0mm, at higher volumes than other chemical etching companies.  
Corrosion Resistant
Stainless steel is a preferred metal due to its outstanding corrosion and oxidisation resistance which, along with other properties such as excellent formability and capability to withstand cryogenic temperatures, makes stainless steel etching at ACE one of our most popular metal etching processes, with millions of parts in different thickness, grades, finishes and hardnesses etched each month.
Multi-purpose
Due to its versatility, stainless steel etching is used in a wide variety of products in many industry sectors. Chemical etching stainless steel means that areas of the metal surface can be etched or reduced, with no resulting distortion or warping. Multi complex profile shapes can be etched and the edges will remain burr free. 
Benefits Of The Stainless Steel Etching Process
Go-To Process

Low set-up costs and fast lead times make stainless steel etching a go-to process in batch sizes of one to multiple millions  

Low-Cost Tooling

The tooling for stainless steel etching is digital, low-cost and can be modified quickly

Right First Time

No heat or force is used when etching Stainless Steel, so the mechanical properties of the metal remain unaltered and parts are free from stresses and burrs

Any complexity

Component features are etched at the same time so part/feature complexity is not an issue when etching stainless steel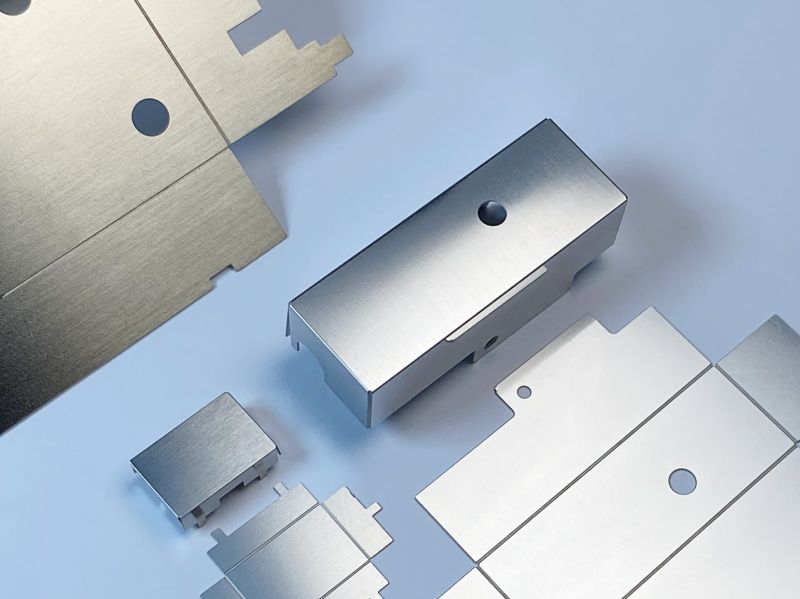 As well as our innovative stainless steel etching process, ACE can also offer a number of added-value processes such as forming, machining and wire eroding, meaning that complex 3D metal parts can be manufactured completely in-house, from formed busbars through to folded shielding components. 
Discover Some Of The Components Produced By Stainless Steel Etching
ACE is the UK's leader in stainless steel etching, with millions of components etched every month in a huge range of grades and thickness ranges from 0.005mm to 2.0mm. ACE is capable of etching stainless steel at higher volumes and with shorter lead times. Discover the range of components that can be produced using stainless steel etching and the etching of other metals.
Learn More About Stainless Steel Etching & ACE's Technical Capability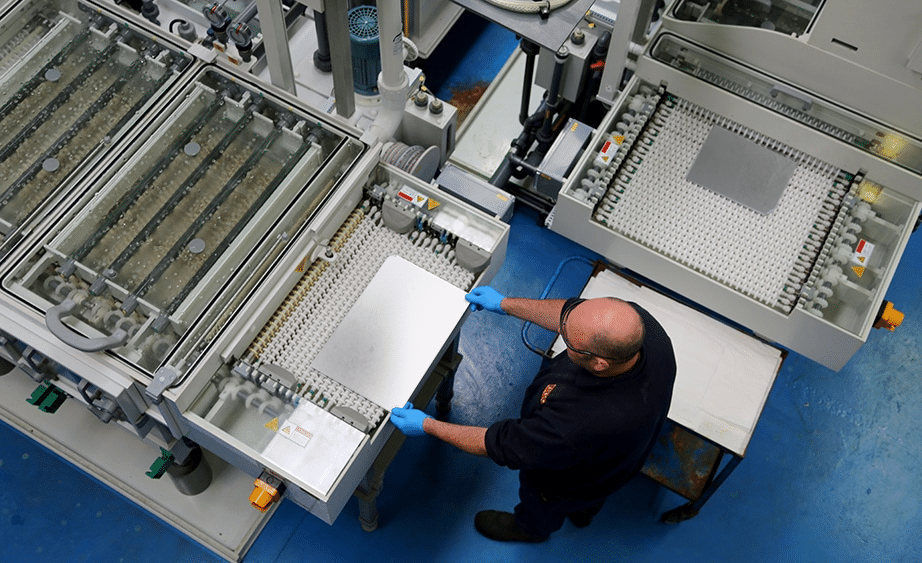 Did You Know?

Advanced Chemical Etching specialises in the manufacturing of precision etched stainless steel components for customers in more than 15 sectors.

Stainless Steel Etching

ACE can etch steel in thicknesses of 0.005mm to 1.5mm in all Stainless Steel grades (Austenitic, Ferritic, Martensitic, Precipitation Hardened Steels and Duplexes), in hardnesses from soft (annealed) to ultra hard and to a maximum sheet size of 1500mm x 600mm.

Etching Stainless Steel – A Flexible Process

Importantly, as the temper or hardness of the material doesn't affect our stainless steel etching process, we are able to chemical etch stainless steel in the annealed condition or very hard grades.
Types of etched stainless steel components supplied
Components That Are Produced By Etching Stainless Steel
Heat exchanger plates/shims
Metal enclosures and facia panels with etched detail
Multi-stage profiled cutting blades for the medical industry
Springs
Shims and washers etching stainless steel is suitable for aerospace applications
Complex micro-fixtures
Flapper valves
Biosensors
Automotive interior trim including speaker grilles and tread plates
Diaphragm springs for fuel management systems in the automotive sector
Acid Etched Stainless Steel Components & Etching in a range of metals
Other types of metal etching