Chemical ETCHING

PROCESS
What is Chemical Etching?
Chemical etching is the process of using corrosive chemicals to remove metal locally from a sheet, leaving the shape of the desired component behind. Find out more about the chemical etching process.
  Chemical etching is a machining process that utilises chemicals to produce intricate components from a wide range of materials. This is done with a corrosive chemical (etchant), which is normally some form of acid and is used to dissolve unwanted material away to produce the final design. Our preferred etchant is Ferric Chloride (FeCI3). Unlike other machining processes, the components produced by precision chemical etching are stress-free with no burrs or rough edges and with no changes to the original material properties.
Highly Accurate Manufacturing
Chemical etching is a manufacturing method for producing highly complex and accurate metal components in most metals including aluminium, copper alloys, nickel alloys, titanium alloys and other exotic metals, between 0.005mm to 2.5mm thick.
More Complexity, Same Price
Many customers select chemical etching because of the flexibility it provides for supplying samples in days rather than weeks or months. The complexity of the profile does not affect the price… to process thousands of apertures or just the one, the price remains the same.
Minimum Feature Sizes
Chemical etching can achieve a minimum standard feature size of 0.075 mm, but apertures smaller than this are possible with development, as is accuracy to less than ±10% metal thickness.
Burr- And Stress-Free Chemical Etching
ACE's chemical etch process produces parts without burrs or stress, with tolerances that can be as low as 10% of human hair. Our chemical etching process preserves the integrity of the material, even in highly complex designs.
The Benefits of Chemical Etching
Precise Tooling

The tooling for photochemical etching is not hard tooling but low cost, highly precise, CAD generated digital tooling (soft tooling).

Risk-Free Design

With the ability to produce prototypes in extremely short lead times, the complexity of design is not an issue and we can match all technical guidelines and react to design changes extremely quickly.

Right First Time

The chemical etching process does not use mechanical force or heat and this means that metal properties remain unchanged. A temper of material is not altered and parts are burr-free.

No Finishing Required

Ultimate net shape machining reduces the need for traditional finishing. Our chemical etching process leaves no rough edges or burrs.

Various Thickness

A variety of different materials and thicknesses can be etched in thicknesses from 0.005mm to 2.5mm.

Tolerances ±0.025mm

As component features are etched simultaneously, the part complexity achievable is almost limitless with accuracy to ±0.025mm.
To Bear In Mind…
Unfortunately, we are not able to put designs onto finished metal components or shaped metal items.
All of our acid etching is performed utilising perfectly flat sheets of metal.
Please also note that we are only able to chemical etch metal.
The chemical etching process is multistage and can be broken down into a series of eight steps:
1. Choosing The Metal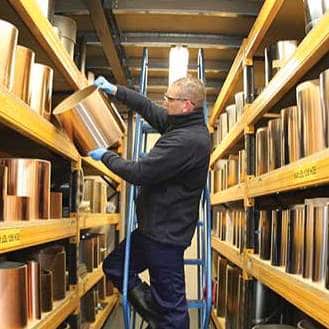 Metal selected to meet customer requirements.
2. Metal Cleaning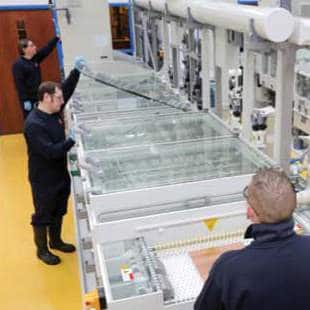 Metal sheets are chemically cleaned.
3. Lamination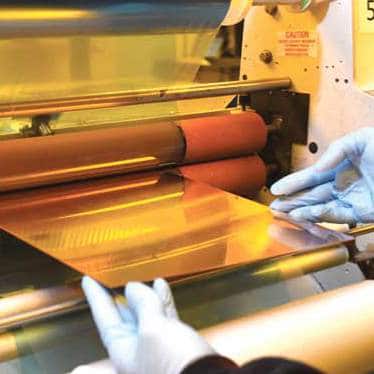 Dry film photosensitive resist is applied to both sides of the metal.
4. Printing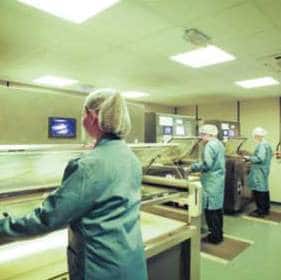 The design is transferred from the film to the coated sheet using UV LED exposure.
5. Developing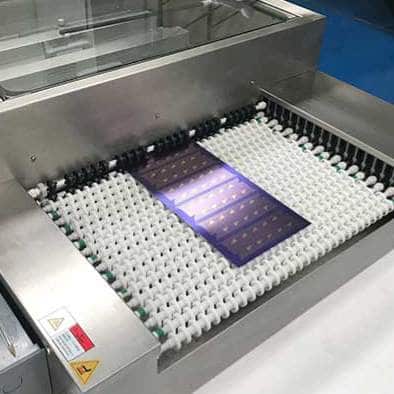 The unexposed areas of resist are developed away to leave exposed metal areas.
6. Etching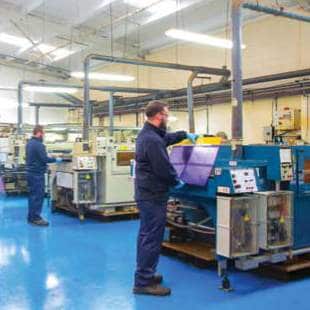 Etchant is sprayed both sides and exposed metal is dissolved.
7. Stripping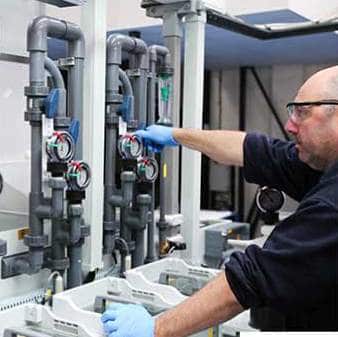 Photo-resist is removed to leave the metal parts
8. Inspecting & Finishing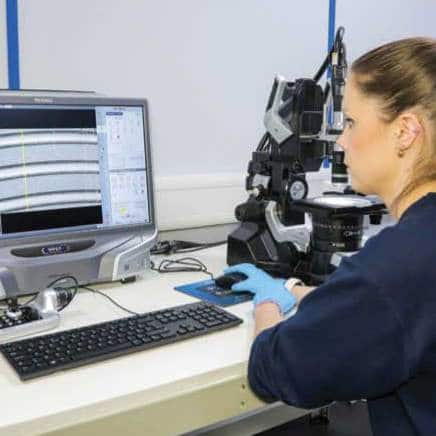 A visual and critical dimension inspection is undertaken. Bespoke products finished to customer specification.
The chemical etching process is multi-stage, and can be broken down into a series of eight steps:
The Etching Process at Advanced Chemical Etching
Development & Evolution

We are constantly challenging the normal chemical etching process route. We continue our research into developing new, precision etching processes in our R&D laboratory. We are constantly evolving this unique process into a competitive engineering route for virtually every industry.

Scalable Production

Parts are supplied clean, burr and stress-free to tolerances that can be as low as 10% of human hair. The process is highly repeatable, so it is flexible enough to produce parts from one-off samples, through production ramp-up and even serial production – processing many thousands of parts every day.

High Capability

Tolerances are a key consideration in any design, and with chemical etching, tolerances vary dependent on the material thickness.
For metals, 0.01 mm-0.25 mm thick the minimum standard etch tolerance is ±0.025 mm.
For thicknesses above this (to 2.5mm) the minimum standard etch tolerance is ±10% metal thickness.

Unique Etching Features

ACE can produce unique characteristics designed into products manufactured using the chemical etching process, such as logos, barcodes, text, ½ etched fold lines and surface patterns.
We can control etch profiles and, by doing so, introduce a range of profiles allowing conical openings, commonly used to direct fluid flow in filtration meshes.
Express Precision Etching
Highly precise prototypes or samples of etching products are produced rapidly through the photo/chemical etching process, allowing the design to be assessed for fit and function.
A Reputation for Service Quality
If a design change is required, the photo tooling can be altered at a minimal cost allowing optimum product development. Our reputation for service and quality leaves our competitors standing.
ACE is leading the CHEMICAL etching industry
Opportunities for Growth
ACE is leading the field when it comes to the fast-moving art of developing highly precise etched components.
We are constantly evolving and creating innovative chemical etching techniques and delivering precision metal parts, manufacturing millions of etched components per annum in different types of metals and thicknesses to global manufacturing companies across 15 different markets.
Major Industry Partners
The relationship with our customers has been a key part of our success.
By partnering with us at every stage of the design and product development process, we can help to achieve the most cost-effective, timely and accurate outcomes to customers' design and engineering challenges.
What Industries Can Chemical Etching Be Used In?
LOW-COST TOOLING SET-UP & MODIFICATIONS
Unlike other manufacturing processes such as stamping, the cost of chemical etching does not increase with feature complexity. This promotes innovation as designers can, at prototype stage, design multiple parts on a sample photo tool to choose the design best suited for part functionality, rather than use costly hard tooling before the part design is completed. This makes the chemical etching process the ideal choice for both high and low volume production and prototyping.
Chemical Etching Allows for Affordable Prototyping
With photochemical etching, prices are calculated by the sheet, not by the part, which means multiple components can be processed simultaneously using a single photo tool. This ability to produce many part types in one production run is the key to the enormous cost savings inherent in the process.
The ACE etching process can be applied to virtually any metal type, including those soft, hard or extremely brittle. For instance, aluminium is renowned for being difficult to stamp due to its soft nature or laser cut due to its reflectivity. Equally, titanium's hardness can prove challenging for other manufacturing processes.
ACE has developed a unique chemical etching process for both aluminium alloys and titanium and is one of the few chemical etching companies in the world with a dedicated, serial production aluminium and titanium etching capability.
ACE lead times for manufacturing can be as low as hours as opposed to other technologies when lead times can take many months.