Advanced Chemical Etching – April 2021 Roundup
Published on 29/04/2021
In April Advanced Chemical Etching welcomed news of great results and strong sales figures following the team's hard work implementing a continuous improvement programme at the Telford facility. Read our April monthly news roundup to learn more about what's new at ACE.
This month's roundup focuses on ACE's recent strong performance following the disruption brought about by the COVID-19 pandemic, as well as measures implemented throughout this and last year as part of a continual improvement drive. Also in April, ACE's superior etching capability attracts higher demand for specialist etched parts, and ACE's forming division adds value through forming add-on services.
Sales Up, Lead Times Down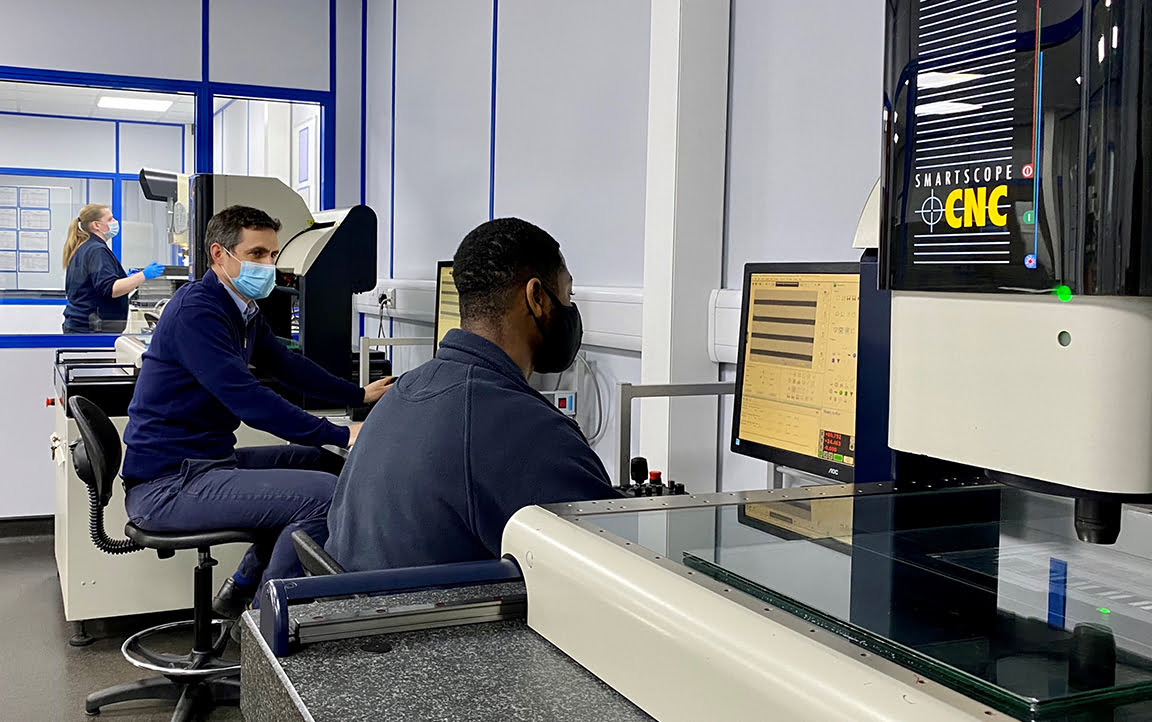 In April the ACE team welcomed news of strong performance and sales figures, bolstered by recent continual improvement efforts and investment aimed at improving the facility's already robust manufacturing capabilities.
As the month draws to a close ACE has smashed the record for order intake. This news was welcomed by the management team and is made even more positive following in the wake of the COVID-19 pandemic, where restrictions and lockdowns presented significant challenges to clients and partners throughout the precision engineering industry.
The Telford facility's strong performance and ability to meet increased demand is credited to the hard work of all of the ACE staff, as well as the continuous improvement measures announced last year, which are focused on improving manufacturing and quality assurance processes as well as increasing etching capacity and manufacturing efficiency.
Improvements made to ACE's processes throughout this and last year have meant the team have been able to keep delivery performance at increased production levels and accommodate a significant boost in orders.
Gary Marriott, Technical Sales Manager, acknowledged the recent strong performance:
We have experienced an amazingly buoyant April with lots of interest and orders across all industries and markets. The boost from process improvements ensured that we were well placed to meet demand. We are now looking forward to meeting our customers at our next scheduled exhibition in July. More details to follow."
Keep up to date with news from the ACE team. Be sure to subscribe to our monthly newsletter to be first to recieve the latest updates.
Advanced Chemical Etching Does It Better With Copper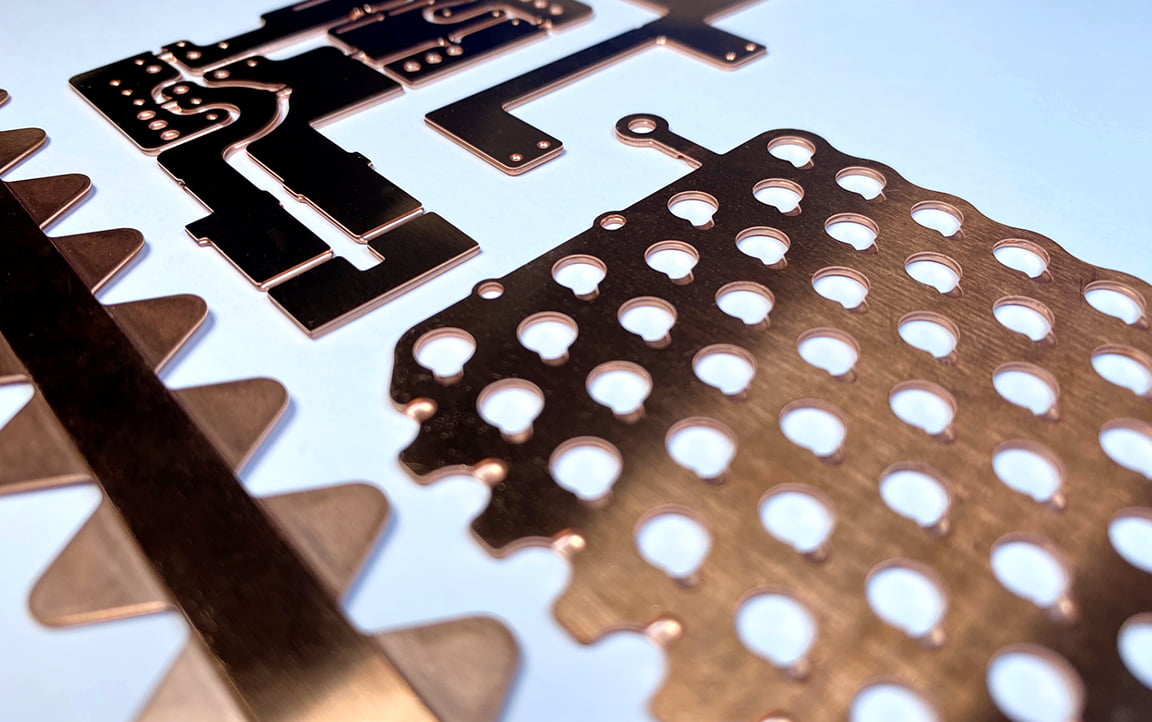 Advanced Chemical Etching's superior etching capacity, shorter lead times and ability to etch a wider array of metals and alloys has cemented the firm's reputation as a world-class supplier of quality precision etched metal parts.
As manufacturers throughout the UK, Europe and throughout the world return their facilities to full production, ACE has seen increased demand for precision metal parts, with a particular uptake in requests for copper parts.
Copper is an incredibly versatile metal with many excellent properties including good electrical and thermal conductivity and high resistance to corrosion. Some copper alloys, such as Beryllium Copper, exhibit incredible strength. Copper is also easy to form, making it the go-to metal for manufacturing components such as busbars, heat exchanger plates, conductive springs and leadframes, components of particular importance to the development of products such as electric vehicles.
ACE has recently enhanced its capacity for etching copper to meet this increased demand, ensuring that quality remains at ACE's high standard, high volumes of components can be etched and that lead times remain low. The manufacturing team etch in thicknesses of 0.025mm to 2.0mm in all Copper alloys, in hardnesses from soft (annealed) to mill hard condition and to a maximum sheet size of 1500mm x 600mm. ACE also offers formed or deep-drawn subcons for the most complex geometries of copper components.
Find out why so many precision engineering firms choose ACE. Get in touch with the team to learn about our superior etching capability and discuss your project today.
ACE Is On Form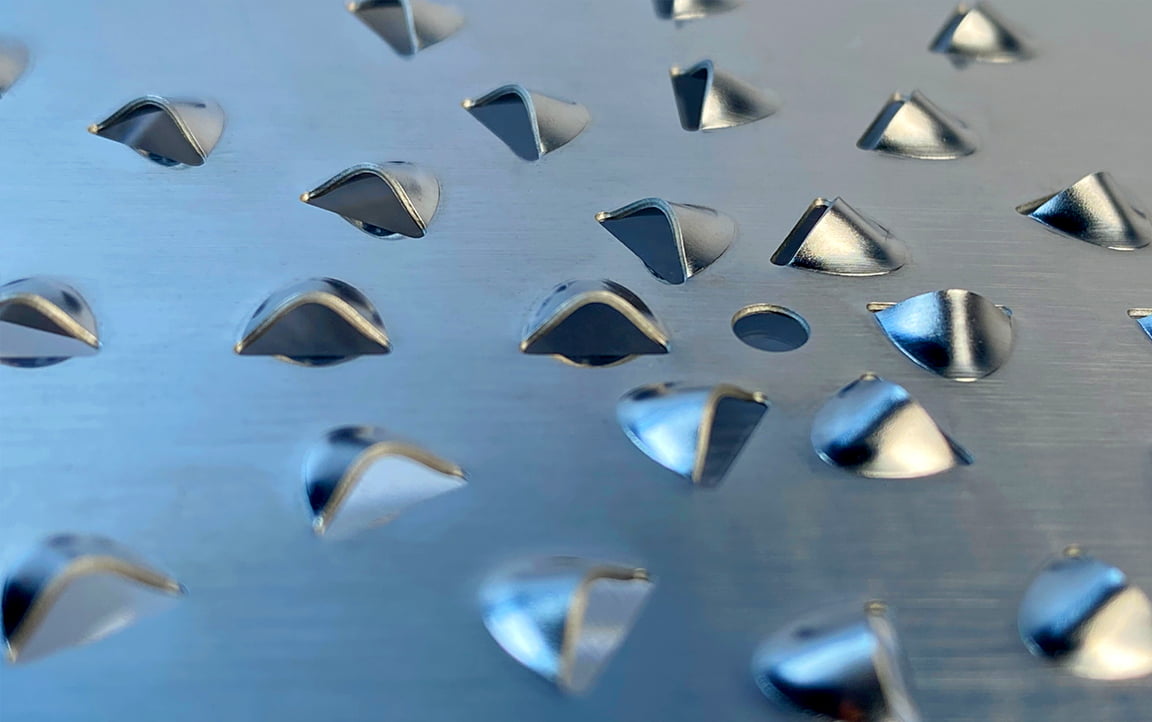 As well as continually innovating and improving our chemical etching process, ACE also operates a forming division, adding even more value for customers through the provision of an all-in-one complex parts manufacturing service.
ACE Forming is a specialist metal forming division, whose experts use a fully equipped toolroom to manufacture their own forming tools, form etched components to drawing and combine machining and wire eroding with etched parts to meet customers' exact requirements.
This add-on forming service is of particular value to precision engineering firms who require a combined etching and forming service, as components can be manufactured from start to finish by one manufacturer. This "one-stop-shop" service is particularly useful for components such as formed busbars, electronic shielding components, spring finger contacts and casing for innovative power supplies.
Customers further benefit from reduced lead times on etched and formed components.  ACE's in-house quality assurance process ensures all components are of the same high quality standard.
Learn more about ACE Forming and how your project can benefit from our "one-stop-shop" service, get in touch with the team today or request a free sample pack to discover our processes first-hand.
No matter your requirements, our expert team will work with you to produce the high performance, lightweight and reliable parts you need. Contact ACE today on 01952 416666 or email sales@ace-uk.net for an initial consultation.