Advanced Chemical Etching – Metal Matters June 2023
Published on 12/07/2023
Space-Comm Expo, an overwhelming success. The ACE Roadshow is coming to a factory near you. A visit from our European Representatives and a new 'ACE' arrival.
Enjoy what we've been getting up to in June in our latest edition of Metal Matters…
Etching proves talk of the show at Space-Comm 2023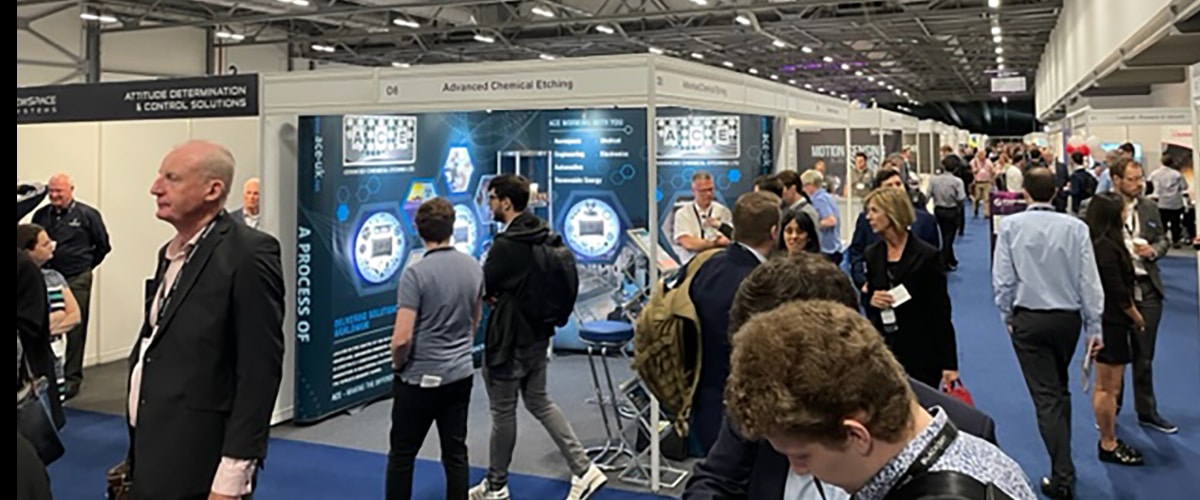 Our first venture into the final frontier proved an overwhelming success in June, with hundreds of UK and international visitors attending our stand over the two days.
The overwhelming response was about the 'surprising' capabilities of etching and how our processes and ability to use lightweight materials could be a major draw for companies making parts for use in actual 'in space' manufacturing.
A number of strong enquiries have been registered, an NDA signed on an exciting new project and a factory visit have all been completed since the show ended and highlights the appetite from a rapidly expanding sector.
Gary Marriott, Technical Sales Manager at ACE, picked up the story: "This was the first time we'd been to Space-Comm and ultimately dipped our toe into what could be an extremely interesting market for us.
"We had a wide variety of etched components on display and visitors couldn't believe the tolerances and features we could achieve. Some of them had never heard of etching, so we had a very rewarding time talking through our technology and what it can deliver for the customer.
"A lot of the interest was around building components that can be used to assemble products in space. These need to be light, yet also offer great strength – something titanium can deliver in abundance."
On the road with ACE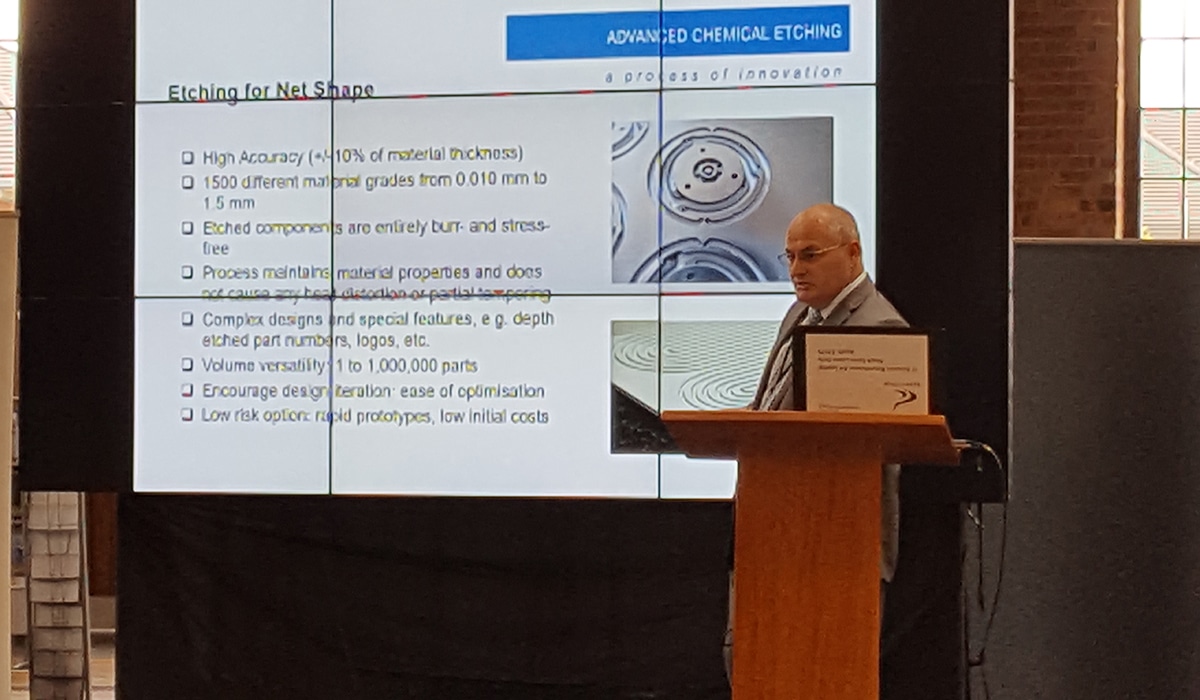 Following several requests from existing and new customers, we are delighted to announce that the ACE Roadshow is coming back to a factory near you.
With clients pushed for time, there is an increasing need for us to take our technical expertise direct to designers and engineers and our experts are getting ready to meet the challenge.
If you are keen for ACE to visit your site to talk through what we can offer, please email gary@ace-uk.net to book your roadshow in.
Ian Whateley, Managing Director, commented: "Before Covid, we regularly took our products and expertise out on the road and we're now starting to see this happen again.
"This can be particularly useful for new customers getting to know us, but also for existing ones that may use us, but may not appreciate our full range of repertoire of skills.
"It's a fascinating way for large numbers of staff to meet us and understand etching without them having to travel and taking time out of their already busy schedules."
Can't make it to any events? Request an ACE Roadshow visit, where we bring the event to you. This established service is back on the roads again, giving you the chance to engage with our Technical Sales Engineers from the comfort of your own building. Our team can set-up within your facility and will explain how our services can assist in your company.
European Connections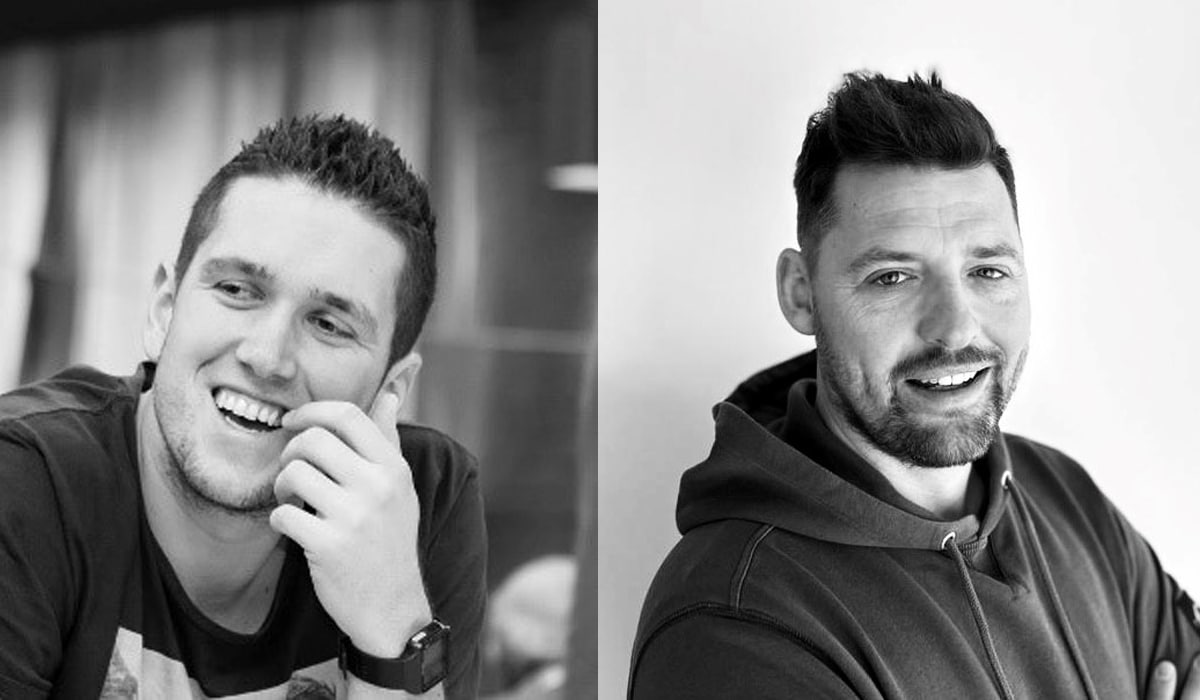 For the first time in more than four years we welcomed our European Representatives to Telford to discuss all things ACE.
It was a good meeting of minds, with discussions covering new processes, industry opportunities and the differing requirements of individual territories.
We gave them a guided tour of the factory, which included getting under the skin of our new etching machines that will deliver faster production speeds and increased capacity.
Gert Peeters, Manager of Cumatrix and ACE lead for the Benelux Region, enjoyed his trip to the UK: "Talking and brainstorming ideas with colleagues about future plans was invaluable, as well getting to know the capabilities of the factory more and to see first-hand the investment in the facility.
"After a day full of consultations and new developments, we enjoyed a social get together, which was very good for team bonding and ongoing cooperation."
Can't wait to discover how chemical etching could work for you? Order your FREE sample pack today and get to grips with ACE's precision chemically etched components for yourself.
A new arrival on the way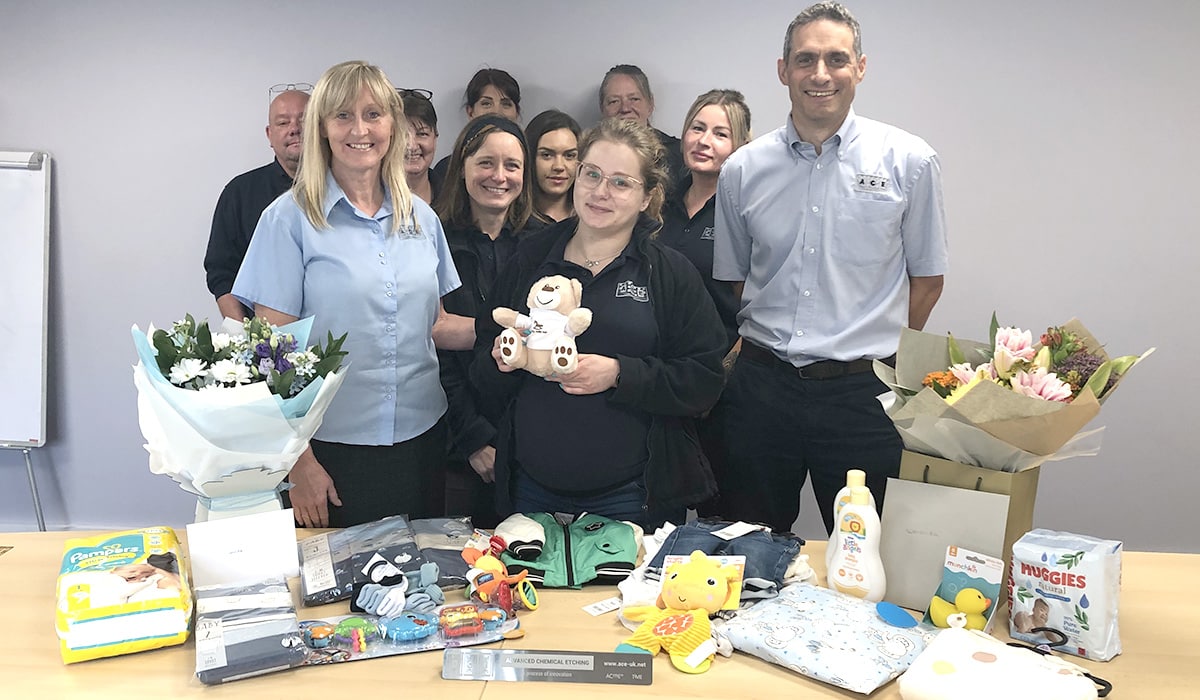 A big well done to our amazing production team, who continue to produce best-in-class quality and delivery performance – even with sales volumes increasing by up to 35%.
A new 'ACE' baby should shortly be delivered, with Werokinka Erdman getting ready to welcome her little boy into the world.
The final inspection operative, who joined the company last year, was presented with flowers last week by the management team as she started her maternity leave at the end of June.
Jayne Powell, HR Manager, was quick to praise Werokinka for the impact she has had in the first twelve months. "She has been a fantastic addition since joining us and we wish her all the best for the birth of her first baby. We look forward to welcoming her back to the business in the future and seeing pictures of the youngest 'ACE' recruit."
You can follow us @ace_chemetching on twitter and advanced-chemical-etching-ltd on LinkedIn. Alternatively contact ACE today on 01952 416666 or e-mail sales@ace-uk.net for an initial consultation.