Advanced Chemical Etching – February Roundup
Published on 28/02/2020
With the year off to a flying start, Advanced Chemical Etching has been busy responding to heightened demand and planning a full itinerary of events and exhibitions to take place in the coming months.
Our February news roundup covers the latest on the ground at Advanced Chemical Etching, including the recent media appearance by ACE in the New York Times, our involvement with local charitable causes and information about our upcoming exhibitions and events.
ACE Featured In New York Times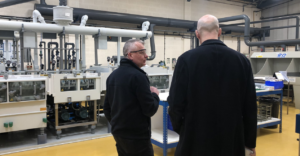 The Advanced Chemical Etching facility in Telford was recently visited by journalists from the New York Times on their whistle-stop tour of Britain's manufacturing heartland.
Manufacturers and businesses were interviewed by the publication following the United Kingdom's official departure from the European Union in January. Of particular interest to observers and analysts is the potential for trade disruption pending further negotiations between the British Government and those of trading partners around the world.
Advanced Chemical Etching has experienced a bumper January with sales increasing by more than 40% over last year – the best month ever for the company since its opening in 2000.
ACE manufacturers etched metal components for use in a diverse range of sectors including aerospace, renewable energy, medical and biotechnology as well as electronics and automotive applications.
Britain has a reputation around the world for its engineering prowess. The Midlands, in particular, is known as the UK's manufacturing capital and is home to much of the industry that fuels production in Europe and beyond.
When asked how Brexit is likely to affect ACE's activities going forward, Cheif Executive Chris Ball answered that he hopes politicians will not derail the recent gains the business has made.
Having similar trading terms that we do now would be the ideal thing.
Like ACE, other manufacturers in Britain cater heavily towards an export market, with many of the products and components made being destined for Europe and beyond. Advanced Chemical Etching produces metal components for cars, planes, drones, satellites and medical devices for companies internationally.
Find out more about the range of industry sectors Advanced Chemical Etching produces bespoke etched metal components for.
Knife Angel Statue Arrives in Telford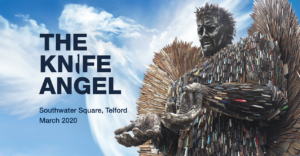 The National Monument Against Violence and Aggression, known as "The Knife Angel," has arrived in Telford's Southwater Square.
The Knife Angel statue is an initiative devised by the British Ironwork Centre to raise awareness about the escalating problem of knife crime in the UK. The initiative works closely with victims of knife crime and their families, incorporating their voices into the fight against violence on Britain's streets.
The 27ft sculpture is made from over 100,000 knives seized or collected by the UK's police forces and dedicated to the victims of knife crime.
Several local businesses including Advanced Chemical Etching have contributed funds to allow the transportation and installation of the Knife Angel in Telford. The sculpture will sit in Southwater Square from the 29th of February until the 29th of March.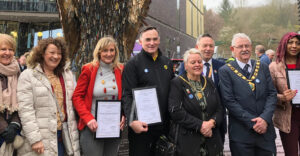 ACE's own Jayne Powell at the opening of the Knife Angel in Telford's Southwater Square

A number of events and activities will be taking place to coincide with the Angel's visit including an official opening on Saturday the 29th of February, featuring performances from a number of local schools and community groups. Throughout the month there will be workshops, drop-in sessions and vigils aimed at raising awareness of knife crime and mental ill-health among young people.
Advanced Chemical Etching Exhibiting At MedtechLIVE 2020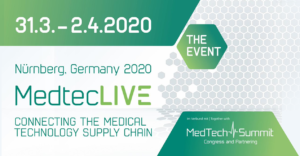 IMPORTANT UPDATE – Please note that as of the 9th of March Advanced Chemical Etching's planned exhibition at MedtecLIVE 2020 has been postponed until a later date in 2020 that has yet to be determined. MedtecLIVE has taken the decision to prioritise health and safety following the spread of the coronavirus in Europe. Please stay tuned to our website and social media for further updates about this event and others. More information can be found at MedtecLIVE 2020.
ACE is preparing to take the chemical etching show on the road for MedtechLIVE in March.
From the 31st of March to the 2nd of April our exhibition will be available to visit at Stand 426, Hall 9 at Nuremberg Messe in Nuremberg, Germany.
Our brand-new-for-2020 exhibition will feature an extensive look at the Titanium and Nitinol etching process, with a detailed look into the precision engineering and innovative chemical technique that makes etching complex parts possible without resulting in burrs and heat stress.
Representatives from ACE UK and ACE Germany will be on hand to demonstrate chemical etching and it's industry applications in-depth and will be happy to discuss your requirements and offer cost-effective solutions.
If you're interested in seeing Advanced Chemical Etching's products up close why not see our other upcoming exhibitions, request an ACE roadshow or even request a free sample pack?

No matter your requirements, our expert team will work with you to produce the high performance, lightweight and reliable parts you need. Contact ACE today on +44 (0)1952 416 666 or email sales@ace-uk.net for an initial consultation.