Advanced Chemical Etching – July 2021 Roundup
Published on 30/07/2021
In July the ACE team continued to assist customers through a busy summer manufacturing period. Read our July news roundup to find out more about what's new at ACE.
This month our news roundup focuses on details of ACE's production availability through the summer during a traditional shut-down period for manufacturing. In July we also cover the team's recent success in securing ISO 9001 recertification. Also: details of how you can join the conversation and keep up to date with all of ACE's updates, and how you can take a closer look at our chemically etched components with our sample packs.
ACE Full Steam Ahead This Summer
Advanced Chemical Etching's Telford facility remains open this summer, with full steam ahead on both manufacturing and customer service availability.
Many manufacturers traditionally follow a summer shut-down schedule, temporarily halting production for a few weeks. Throughout the years ACE has kept production at full capacity during the summer months, ensuring that service availability and output is not disrupted.
ACE operates differently from many competitors. By ensuring there are no production interruptions, ACE assists customers in maintaining their supply chains and by being on hand to help should there be a sudden change in demand or need to modify designs to meet tight schedules. In this way, Advanced Chemical Etching helps industries stay reactive to trends and changing market conditions.
We are open throughout the summer working full steam ahead on customer orders. Interested in exploring what metal etching can do for you? Contact the team or call us on 01952 416666.
ISO 9001 Recertification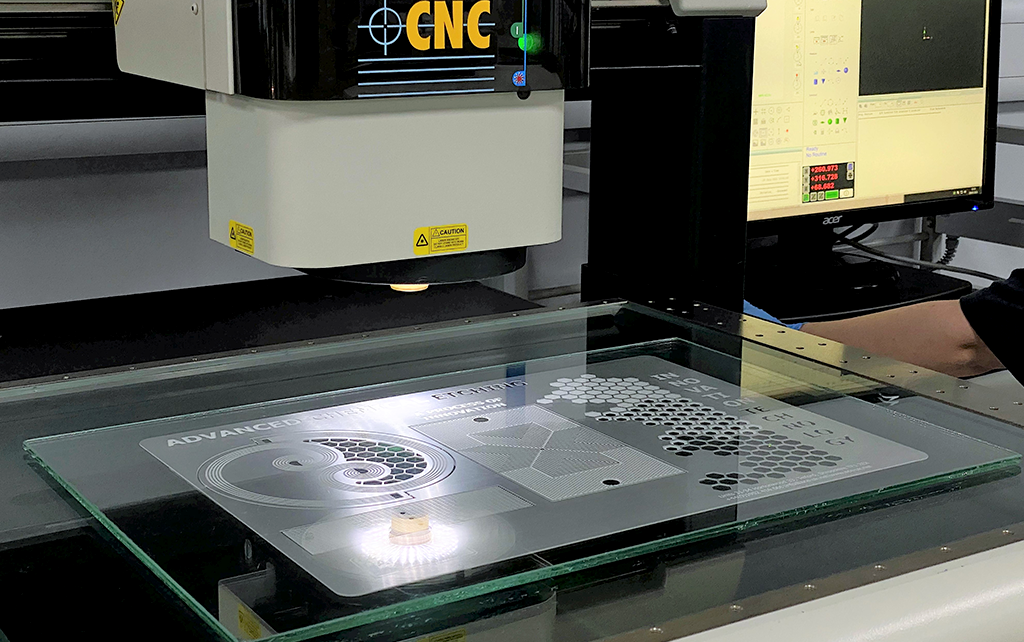 ACE's ISO 9001 and 14001 accreditation has been renewed following an independent recertification process.
ISO 9001 is the internationally recognised set of standards that assists organisations in meeting customer needs by maintaining a very high standard of quality through the implementation of a QMS (quality management system) framework. ISO 14001 similarly defines the standards for effective environmental management systems, ensuring that organisations can minimise the environmental impact of their operations and make continuous improvements towards this.
Our customers rely on ACE to deliver world-class etched precision components and timely service consistently. Following a recent independent audit process, ACE is proud to have been recertified for the quality standard ISO 9001 and to have passed our periodic audit for ISO 14001. The renewed certification reflects the hard work and strong customer and environmental focus of all teams at the Telford facility and demonstrates ACE's commitment to delivering consistent, good quality products and services. Further certifications for AS9100 and ISO 13485 for the Aerospace and Medical industries are being planned in the future.
Ian, ACE's Quality Manager, welcomed the recent news:
"Earlier this month we passed our ISO 9001 recertification audit with flying colours. The auditor carried out a thorough examination of our QMS. He was particularly impressed with the ongoing improvements that we have made in Process Control and Problem Solving."
Jayne, HR and H&S Director, added the following:
"It was great to have the ISO auditor back on-site to demonstrate the changes we have made to the factory since his last visit. We implemented an array of new environmental policies to ensure sustainable processes and continuously improve our environmental performance. We are extremely pleased with our renewed certification."
Discover why Advanced Chemical Etching's commitment to quality makes all the difference. Schedule a meeting with the team to learn about our superior etching capability and discuss your project today.
Connect With ACE on LinkedIn and Join The Conversation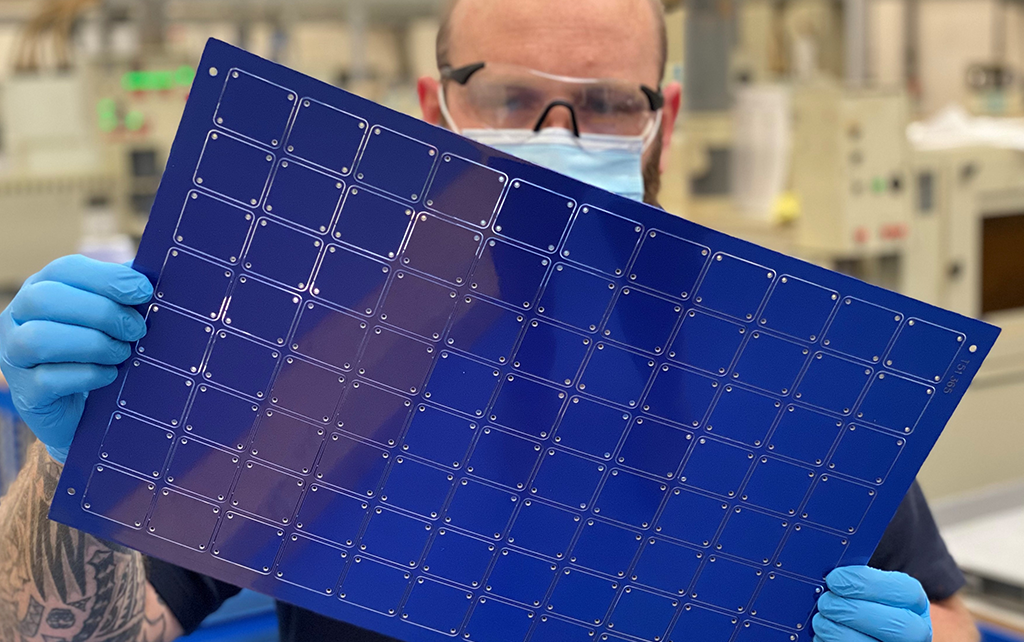 Want to stay up to date with everything new at Advanced Chemical Etching? 
As well as our regular updates, the ACE team are also active on LinkedIn. News and updates are regularly published, giving you the chance to get an insight into what's going on at the Telford facility.
Many of ACE's industry partners, suppliers and clients find using LinkedIn to be a convenient way to stay connected, exchange ideas and information and stay in touch with our technical experts.
Visit Advanced Chemical Etching's LinkedIn profile today to view our latest updates, and be sure to follow us to receive our updates in your feed. Want to be the very first to receive our latest news? Why not become a member of our mailing list and get our monthly news updates sent straight to your inbox?
Take A Closer Look With ACE's Sample Packs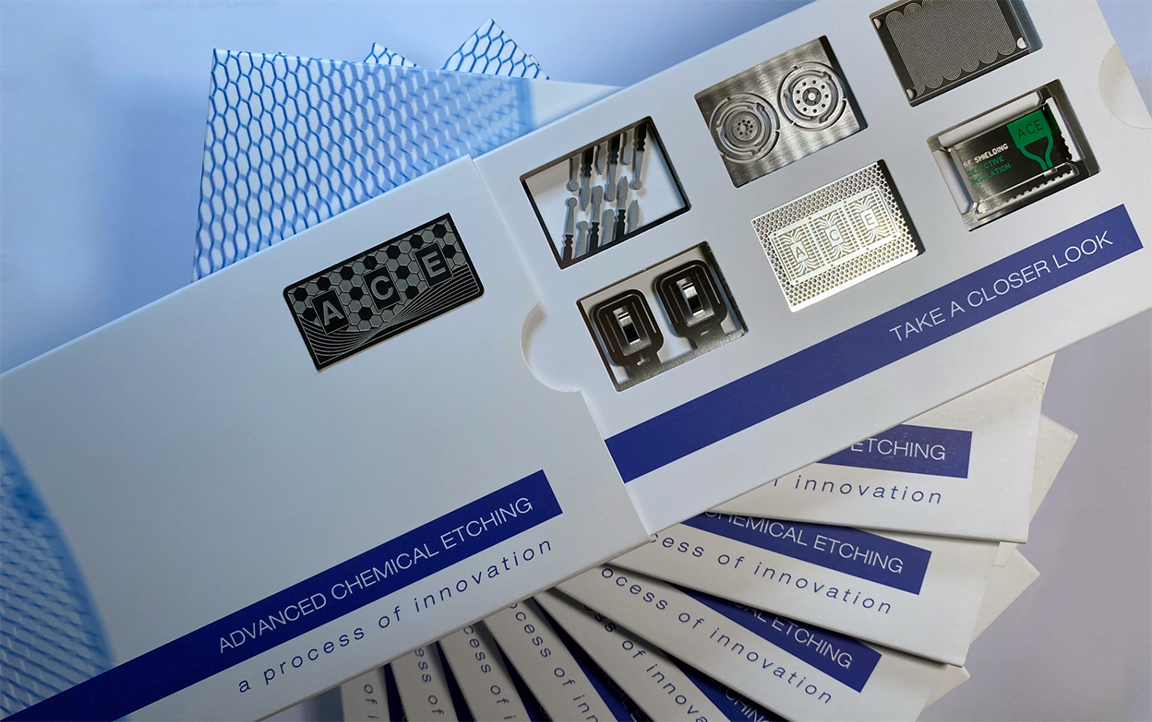 Interested in finding out what Advanced Chemical Etching can do for you?
We'd love to show you with a free sample pack, as well as bespoke aluminium, titanium, steel or copper sample components relevant to your requirements. ACE's chemical etching capabilities include a wide range of metals in thicknesses of 0.005mm to 2.5mm depending on the material. Precision is at the heart of what we do, and parts can be produced with tolerances as low as +/-0.025mm from prototyping to production series quantities.
Simply visit our sample pack request page to get your FREE sample pack, and learn why so many precision engineering, medical, automotive and aerospace firms look to ACE for the highest quality, highest precision chemically etched parts.
No matter your requirements, our expert team will work with you to produce the high performance, lightweight and reliable parts you need. Contact ACE today on 01952 416666 or email sales@ace-uk.net for an initial consultation.