Advanced Chemical Etching – June 2021 Roundup
Published on 30/06/2021
June has seen the Advanced Chemical Etching team continue to make progress with the previously announced continuous improvement programme, as well as strengthening relationships with suppliers and partners. Read our June news roundup to find out more about what's new at ACE.
In this news roundup for June, we cover Advanced Chemical Etching's recent efforts to secure the supply of materials during a challenging time for worldwide metals supply. Also in June: process owners take part in the first multi-department training sessions as part of our continuous improvement programme, and how you can judge the quality of ACE's chemically etched components for yourself with our free sample packs.
ACE Secures Supply Channel During A Challenging Time For Metal Supply Chain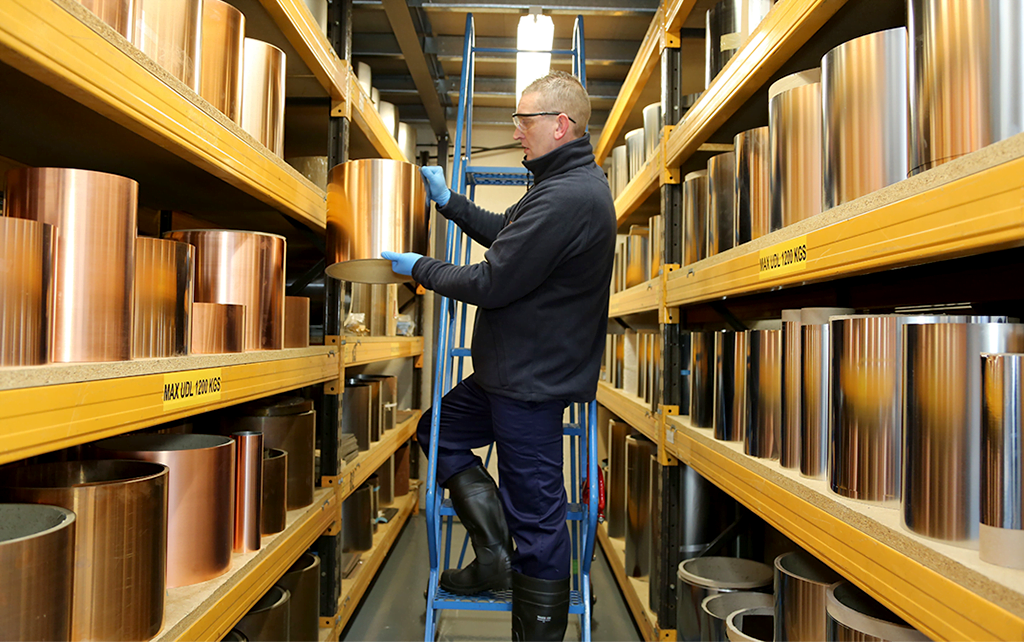 Advanced Chemical Etching is responding proactively to challenging conditions within worldwide metals supply.
In response to supply and availability issues within the global metals production market, ACE has enacted a strategy to ensure an uninterrupted supply of metals and a continued high level of operational capacity.
The supply of metal globally has been uneven throughout 2020 and into 2021, with particular volatility in the stainless steel markets and supply of copper expected to dip along similar lines. It is predicted that these trends will continue, with prices and availability set to fluctuate until at least the end of the year.
In 2021 mills have actually increased their output compared to 2020, however global demand during this period has outstripped supply. Even as production has increased following disruption brought about by the pandemic, the outcome of various manufacturers coming back online has meant a lack of availability and increasing prices.
ACE is committed to ensuring the stability of supply chains for our customers. As a result, a supply security strategy has been enacted, ensuring that operational capacity is not affected by fluctuating materials supply. This has involved securing contracts with our suppliers, ensuring that supply can always be called in when required. In addition, the team are working in partnership with our customers to ensure strategic blanket order cover is in place for key articles.
ACE is continuing to closely monitor the market and will respond accordingly to each new development.
Keep up to date with news from the ACE team. Be sure to subscribe to our monthly newsletter to be first to receive the latest updates.
Quality Clinic Update — ACE Achieving Competitive Excellence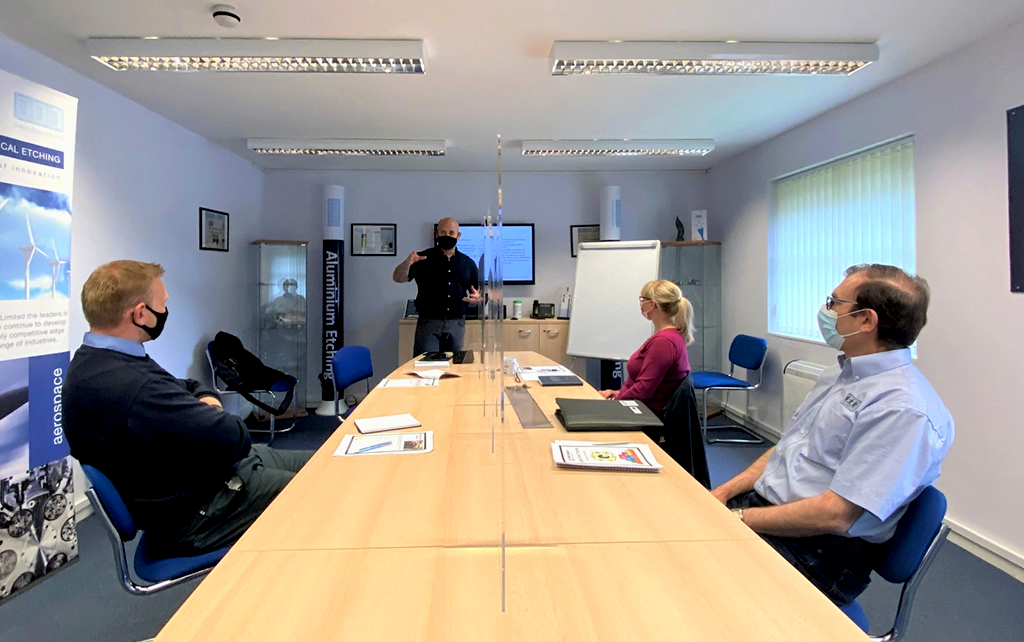 Communication and collaboration are at the centre of ACE's continuous improvement programme, and in June the next phase of this formal development process commenced.
The first scheduled training session, designed to foster collaboration across functional teams, took place in June. Process owners from production and HR were engaged in discussing people, lean thinking and statistical process control.
Richard Jones, Supplier Development Manager at Collins Aerospace, is conducting the training sessions in line with supplier development activities.
"Having already started the Quality Clinic process in late 2019, ACE has continued with the drive to improve its internal non-conformance process."
Richard went on to outline ACE's progress as part of the continuous improvement programme;
"The knock-on effect of this activity is a marked improvement in internal scrap rate reduction and improved throughput from supplier to customer. Team engagement has been developed through the "make quality personal" mentality, where all team members' inputs are valued and used to correct any non-conforming issues. The roll-out now encompasses not only the production team, but involves the technical side of the business as well as human resources to better improve all ACE production systems."
"We're pleased to see the already impressive changes the team have made and look forward to the continued growth of ACE's quality clinic journey."
Process owners in attendance gave their feedback on this first round of training, with Jayne, HR Director, Mo, R&D Manager and Carwyn, Production Manager, stating:
"Really found the training extremely useful. It will help us to build further on a culture where ideas for improvements thrive and subject matter expert operatives share their observations on processes freely and frequently."
ACE is looking to take this further to engage process operatives even more in process improvements and to foster collaboration across functional teams.
Learn more about ACE's continuous improvement programme. Join us on LinkedIn and be part of the conversation.
Put Our Products To The Test With ACE's Sample Service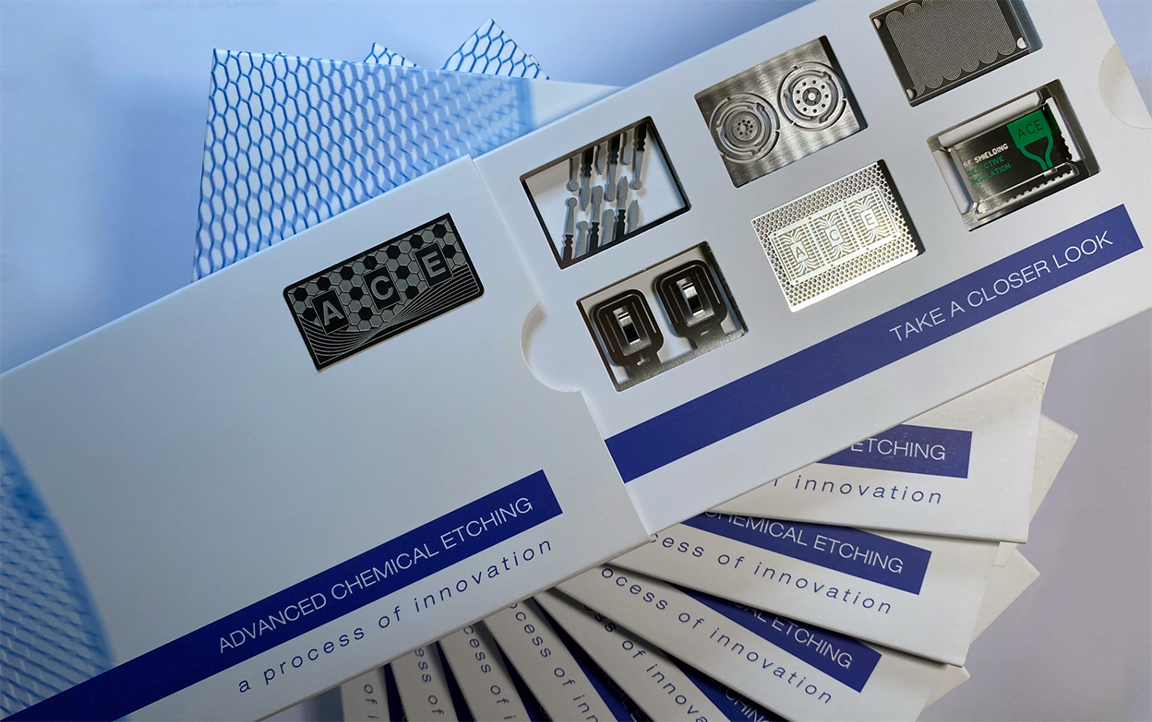 A photo says more than a thousand words. But when it comes to understanding process capabilities and quality of etched components, having sample parts for analysis beats any photo.
From sub-marine to outer space – our parts get around, supporting applications in a number of different industries. And with our free sample packs, it's never been easier to get your hands on ACE's chemically etched components.
Our samples make it clear why chemical etching is the best manufacturing solution for metal components. Benefits of etching over stamping and machining include smooth edges, blemish-free surfaces and complex geometries to tight tolerances.
Inside each sample pack, you'll find examples of different features like apertures, bars, channels, half etched surface details, filters, text and formed elements in stainless steel and other materials on request. And by choosing ACE, you'll also benefit from our short lead times, flexible volumes and unbeatable quality.
Simply visit our sample pack request page to get your FREE sample pack, and learn why so many precision engineering, medical, automotive and aerospace firms look to ACE for the highest quality, highest precision chemically etched parts.
No matter your requirements, our expert team will work with you to produce the high performance, lightweight and reliable parts you need. Contact ACE today on 01952 416666 or email sales@ace-uk.net for an initial consultation.