Advanced Chemical Etching – May 2021 Roundup
Published on 27/05/2021
In May the ACE team continued making improvements to both staff safety and quality assurance processes within the Telford facility. Read our May monthly news roundup to learn more about what's new at ACE.
This month's roundup focuses on ACE's continued efforts to improve staff safety with the implementation of a new COVID testing scheme at the Telford facility. Also in May: new equipment promises to speed up quality assurance procedures, customer testimonials highlight ACE's excellent service quality and details of the first in-person exhibition the team will attend since COVID restrictions came into effect.
ACE Offers Free COVID Testing To Staff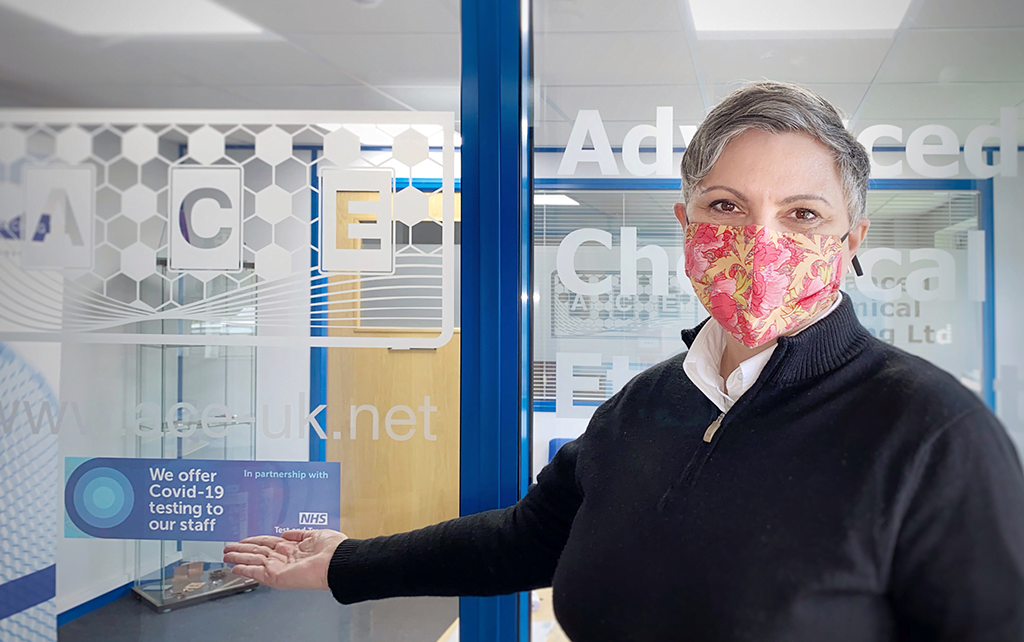 In May ACE moved ahead with new COVID safety procedures at the Telford facility by taking part in a new testing scheme.
A recent government-backed testing scheme has made rapid testing facilities available to workplaces throughout the UK with the aim of improving staff safety and COVID security.
Regular testing is now in effect at ACE's manufacturing facility in Telford, with rapid lateral flow tests being used to quickly gain the results and ensure employees remain safe while working.
Around 90% of ACE's workforce now receive these free test kits. Staff test themselves twice a week, the results of which are recorded using a secure online system.
Export Sales Manager Stefanie praised the new testing system and noted the benefits for staff at every level of the business:
"I am glad we are being provided with regular free tests through ACE. They are easy to use and give me a feeling of security. It's also great, that we signal to our visitors to site, that we are taking part in the scheme."
HR Director Jayne added the following:
"When we asked our employees, we received overwhelming support to take up the government's rapid lateral flow testing at work scheme. I am so pleased with how positive the staff have responded to our actions to combat the coronavirus over the last 12 months. It wouldn't have been as successful if we hadn't had such a fantastic team!"
ACE will continue to take every opportunity to improve and maintain the safety of staff and their families as the facility welcomes more staff and visitors through its doors in the coming months.
Keep up to date with news from the ACE team. Be sure to subscribe to our monthly newsletter to be first to receive the latest updates.
New Shadowgraph For Quality Assurance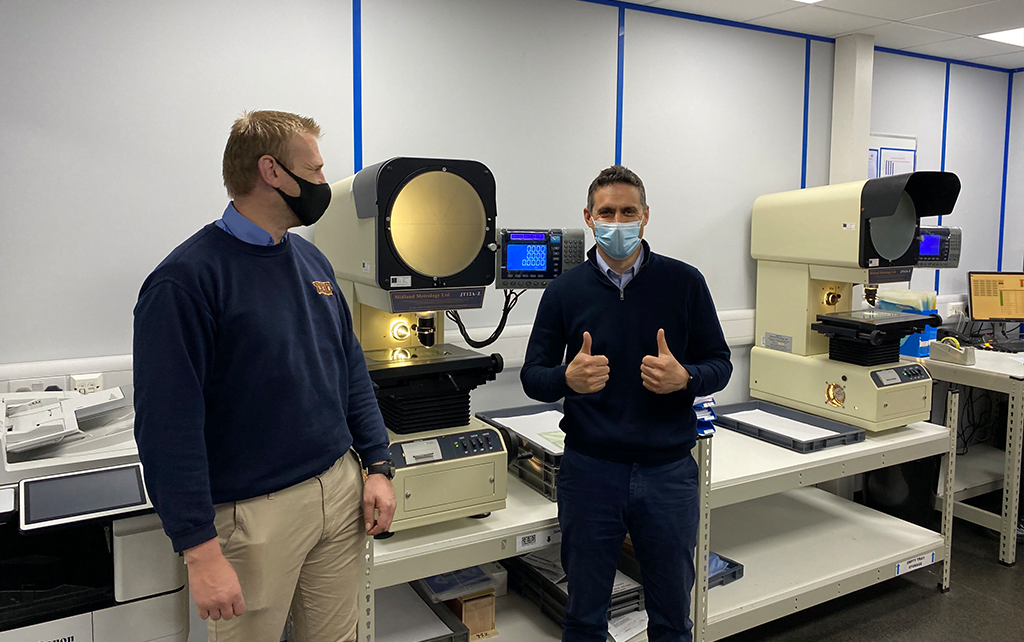 A new specialist piece of equipment has recently been installed in ACE's Quality Assurance department.
The shadowgraph was delivered to ACE in May, an important and welcome addition to the team's already large inventory of inspection machines designed to improve the speed and reliability of quality assurance.
Shadowgraphs are high-precision measuring instruments, used to inspect the profile, surface and outline of intricate components. By looking closely at the metal surface of chemically etched parts, it is possible to detect non-uniformities that could affect performance.
This new addition to the department comes as part of ACE's investment plan, with equipment provision and resources scaling in line with increased customer demand.
Installing the Shadowgraph was a team effort. Quality Manager Ian was pleased to receive the new device, commenting that the team will now be able to carry out "first off inspections" simultaneously, improving the speed and efficiency of quality assurance.
Our Latest Customer Testimonials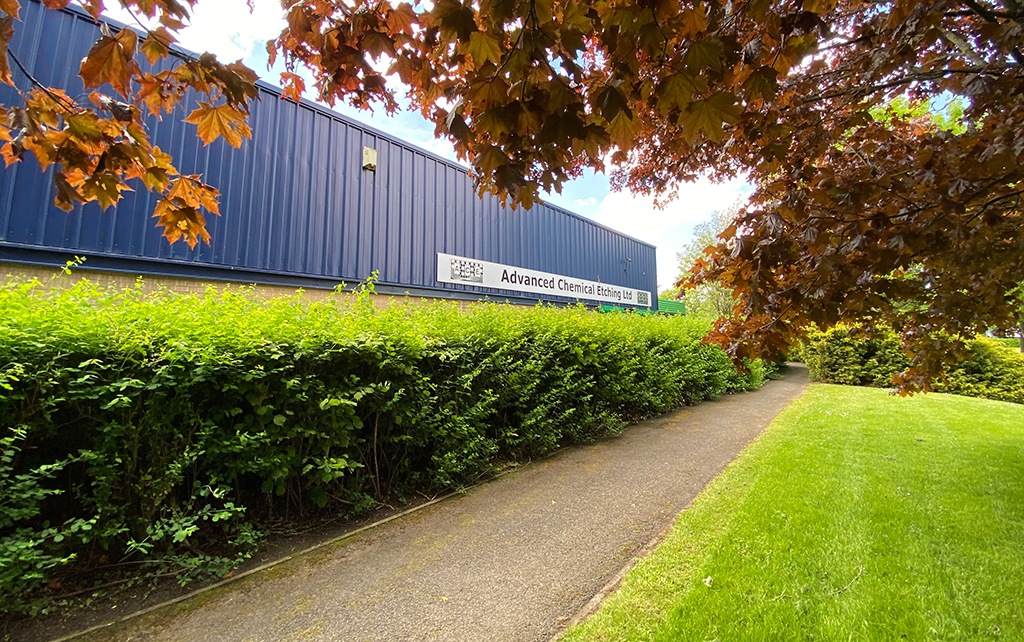 ACE has always gathered customer feedback, using this to inform improvements to the firm's already high-quality service provision.
In May the management team were pleased to receive a bumper load of customer testimonials, highlighting the areas where ACE's product offering and customer service shines above the rest. Technical Sales Manager Gary Marriott welcomed the feedback, noting how important these customer endorsements are and the positive impact these have on the team.
"Just a quick thank you to you and your team for getting these turned around so quickly for us. Many thanks."
"Thank you for getting the parts shipped, they have arrived safely and my colleague is very happy with them."
"I was absolutely blown away by the sample components! Very excited to use your process. "
"We have no issues with ACE at all we always get a great service from you with regards to the quality of parts and deliveries."
"As always everything is first class, responses are always top-notch and very timely. I hope your organisation know they have a wonderful ambassador for your company."
Find out why so many precision engineering firms choose ACE. Get in touch with the team to learn about our superior etching capability and discuss your project today.
ACE To Exhibit At Vehicle Electrification Expo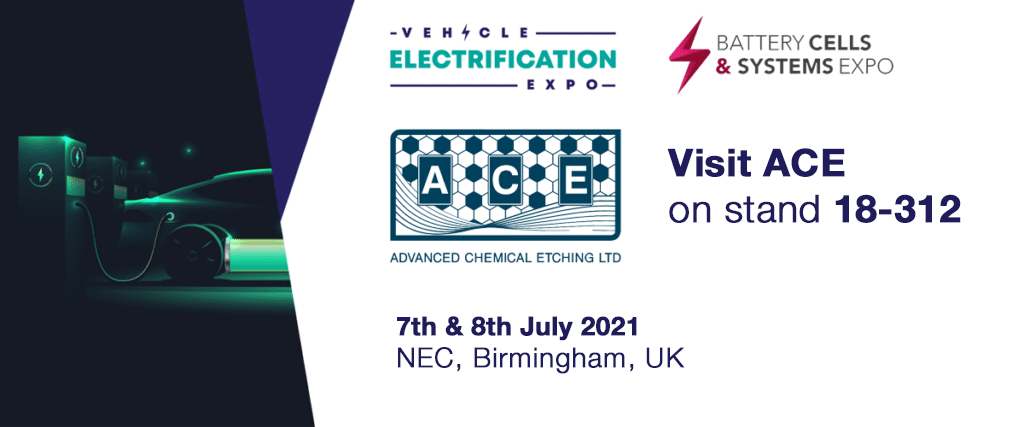 The team are pleased to confirm that ACE will be exhibiting at the Vehicle Electrification Expo in conjunction with the Battery Cells & Systems Expo taking place in the Birmingham NEC from the 7th to the 8th of July.
After a long period of COVID restrictions limiting the types of events they could attend, the team are gearing up to exhibit at the first such event since measures took effect.
The Vehicle Electrification Expo and Battery Cells & Systems Expo is a key event for the UK and wider international EV industries, highlighting the latest advancements in EV and fuel cells and the applications for emerging consumer and industrial technology.
Technical Sales Manager Gary Marriott noted the importance of getting the show back on the road and catching up with clients and partners:
"We are looking forward to welcoming our customers to our stand at the exhibition and meeting new contacts."
No matter your requirements, our expert team will work with you to produce the high performance, lightweight and reliable parts you need. Contact ACE today on 01952 416666 or email sales@ace-uk.net for an initial consultation.