Advanced Chemical Etching – November 2021 Roundup
Published on 25/11/2021
The Advanced Chemical Etching team posted record sales numbers in November with trade now 10% up over pre-Covid levels. Also this month: new colleagues grow the sales team, and ACE's expanded fleet of EV vehicles take to the road.
In November ACE celebrates extremely strong sales performance and sets a new £10m target following continued investment and team expansion. This month our roundup will also introduce two new colleagues joining ACE's sales team, and more about our EV fleet expansion.
ACE Bounces Back From Lockdown Disruption To Target £10m Sales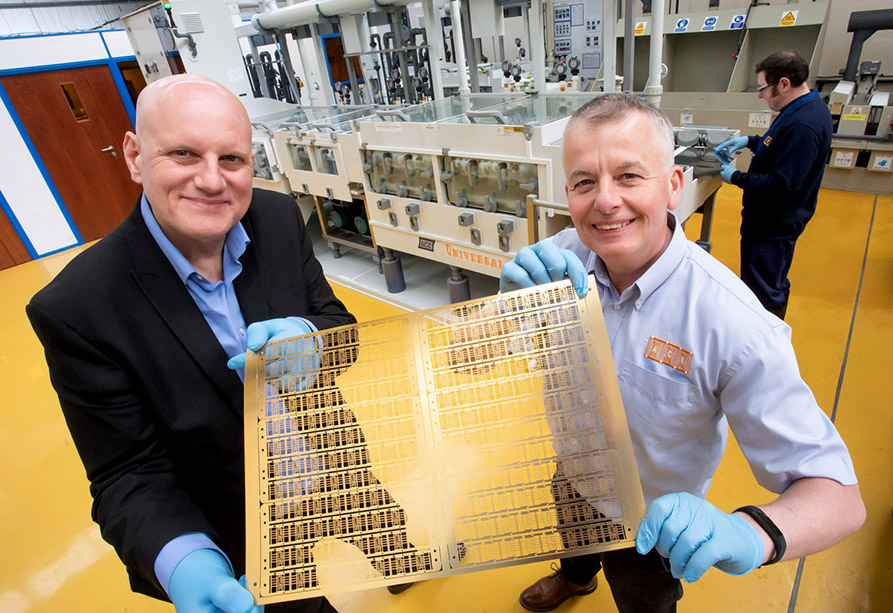 Advanced Chemical Etching is now trading 10% above pre-Covid-19 levels after it recorded its largest-ever monthly intake of orders.
ACE has seen volumes in the automotive and aerospace sectors increase rapidly, alongside exciting new opportunities for its titanium, copper and aluminium etching expertise in the race for electrification.
The latter lends itself perfectly for battery interconnects, so important to the development of energy management in existing and future electric vehicles.
With turnover 30% up on last year, the firm has also pressed the button on a new recruitment campaign to find several new production engineers.
Ian Whateley, Managing Director at ACE, had the following to say about the recent news:
The pandemic put us on pause, but we're now seeing strong signs of growth with aerospace picking up and renewed interest for our manufacturing capabilities in automotive, electronics and medical.
Our sales are back above what we were doing at the start of 2020 and, interestingly, we're doing a lot more in the EU, with 15 new clients already secured in Germany. Many of them are tapping into the lightweighting opportunities our etching can deliver and this is something we are actively looking to explore in the coming months.
We're looking to develop the business to hit £10m in three years and then £12m by 2026. The process improvements we implemented during the lockdown have given us the capacity to manufacture well over 1000 sheets per day, that's a 30% increase from before we entered the pandemic.
Chris Ball, Executive Director at ACE, went on to add:
To support the recent process improvements we've made, we've just signed off on a £500,000 investment that will see us acquire additional etching machines, new metrology capabilities and an increase in material stockholding. There has also been the purchase of a new CNC machine that will support our ability to offer domestic and international customers the chance to benefit from both etching and machining of precision components.
ACE specialises in the development of prototype components, pre-production and volume fulfilment to customers in aerospace, space, precision engineering, automotive, electronics, medical, telecoms and renewables.
The scope of its activities is far and wide and can include anything from safety-critical components for aircraft and F1 cars to meshes and electronic connectors, battery interconnectors, fuel cell bipolar plates and heat exchangers.
Find out why so many precision engineering firms choose ACE. Get in touch with the team to learn about our superior etching capability and discuss your project today.
ACE Welcomes Two New Members Of The Sales Team
In line with increased demand and previously announced expansion, ACE has welcomed two new members of the sales team, adding to our specialist sales and customer service capacity.
The new colleagues will work alongside the existing team within ACE's Telford manufacturing facility, assisting our existing client base as well as developing links into exciting new business opportunities.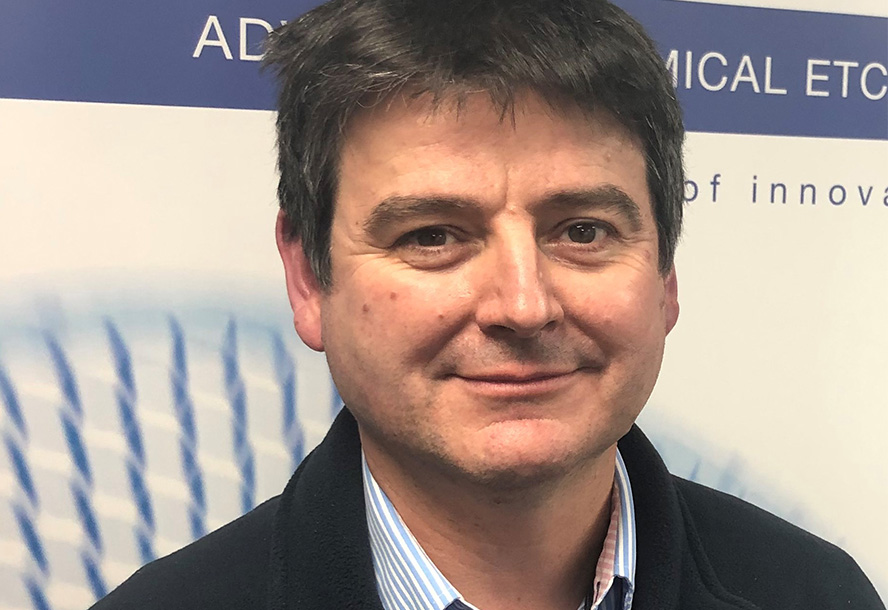 Matthew Chiswell has been appointed to help develop our European and DACH sales region. Having spent a long time based in Germany, Matthew is fluent in the language and brings with him over 25 years of experience working with overseas customers in both account management and business development roles. An internal champion of the customer; he strives to find mutually beneficial solutions. With a background in aircraft components, high-value metals and ammunition supply, Matthew has been fortunate to work with people from across the globe. He hopes to repeat those experiences at ACE in his new role of Export Sales Manager. Matthew can be reached at matt@ace-uk.net.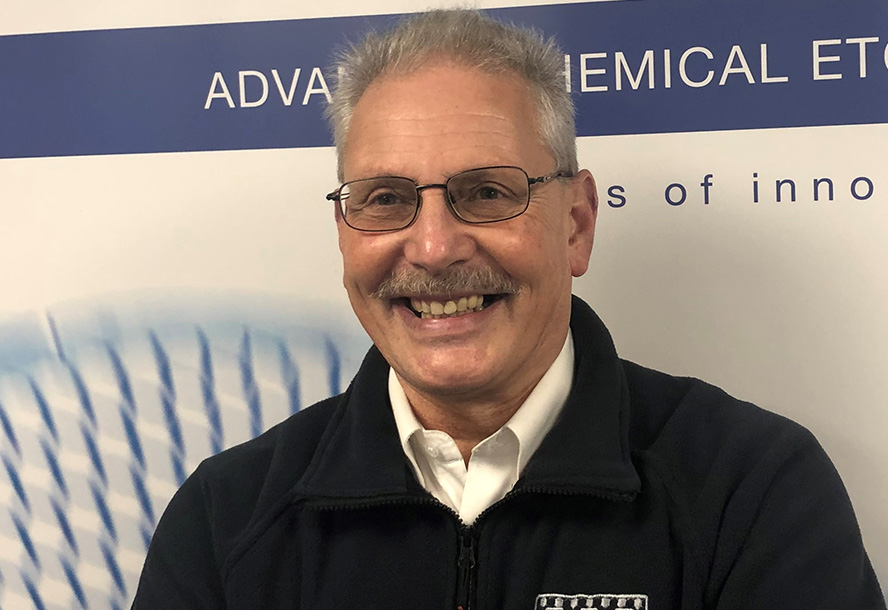 Robin Shedden joins us to assist in internal sales administration. He has a long technical sales engineering background, with decades worth of internal and technical sales experience gained in EMI/RFI shielding (EMC) and thermal management solutions involving metal parts. As our new Internal Sales Engineer, Robin is a welcome addition to the team to improve capacity and throughput in the sales office. Robin can be reached at robin@ace-uk.net.
Visit Advanced Chemical Etching's LinkedIn profile today to view our latest updates, and be sure to follow us to receive our updates in your feed. Want to be the very first to receive our latest news? Why not become a member of our mailing list and get our monthly news updates sent straight to your inbox?
ACE Going Green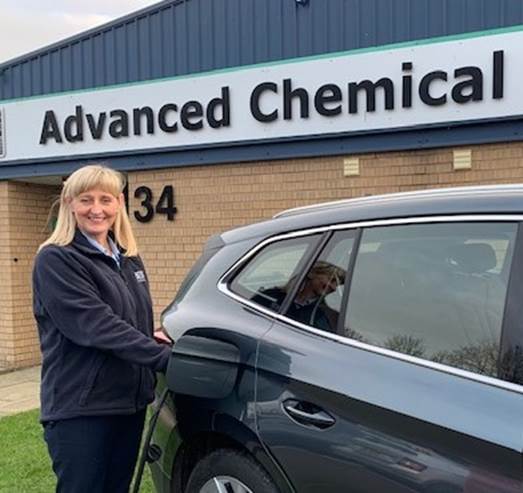 Advanced Chemical Etching is working towards greener transport solutions, starting with the expansion of hybrid and fully electric vehicles within our vehicle fleet.
Conscious of global environmental concerns regarding diesel and petrol engine emissions, ACE is pivoting to replacing all company vehicles with new, greener technologies.
In recent years the global uptake of electric vehicles for both commercial and personal usage has risen sharply, helped by improvements in EV battery technology.
ACE has played a key role in the development of more efficient EV technologies, with our high-precision chemical etching process being used to manufacture a range of critical electric vehicle components, including EV battery components, bus bars, cooling plates and much more.
Now ACE has committed to replacing all company cars with full electric cars or petrol-electric hybrids by April 2022.
Staff and visitors also benefit from a 22kw onsite vehicle charging point located just outside the facility.
No matter your requirements, our expert team will work with you to produce the high performance, lightweight and reliable parts you need. Contact ACE today on 01952 416666 or email sales@ace-uk.net for an initial consultation.