Advanced Chemical Etching – February 2022 Roundup
Published on 25/02/2022
February sees Advanced Chemical Etching record excellent customer satisfaction results from a recent customer feedback survey. Also this month: expansion of ACE's machinery fleet further increases capacity, and news of our upcoming exhibition where you can meet the team and get to grips with ACE's precision chemical etching process.
Read on in our February news roundup to learn more about how ACE is gathering client feedback and working to continually improve their service quality. We'll also detail the addition of new etching machines and the benefit this will have for etching throughput and capacity. Finally this month, the sales team gear up for their second exhibition of the year, the Hydrogen Tech Expo, scheduled for March.
Customer Satisfaction Success After Survey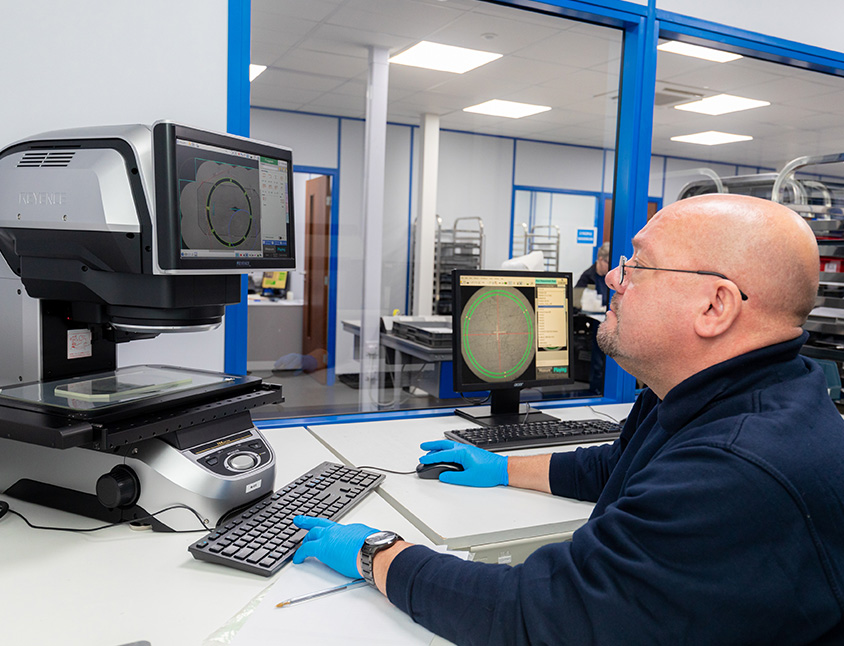 As part of our continuous improvement strategy, ACE has recently taken the pulse of our client base by gathering customer feedback.
The results of the recent customer feedback survey have been overwhelmingly positive, with key clients identifying the ease of communication with the ACE team, the high quality of the service they experience, as well as the overall high quality of the products they receive.
Advanced Chemical Etching constantly works towards improving the already high quality of their service. As part of this, regular customer surveys help to identify where any potential gaps may lie or where preemptive work can be done to head off problems before they occur.
The team welcomed the feedback from those clients who participated in the survey, with highlights coming in the form of praise for ACE's sales and customer service teams and the extent to which prompt communication aided in their own internal processes and project outcomes. A few of the standout comments were as follows;
"We have no issues with ACE at all, we always get a great service from you with regards to quality of parts and deliveries."
"Service is excellent."
"ACE are a very good company to deal with."
"I wouldn't change anything."
Want to join our satisfied clients? See for yourself why so many precision engineering firms choose ACE. Get in touch with the team to learn about our superior etching capability and to discuss your project today.
New Machinery And Renovations At Telford Facility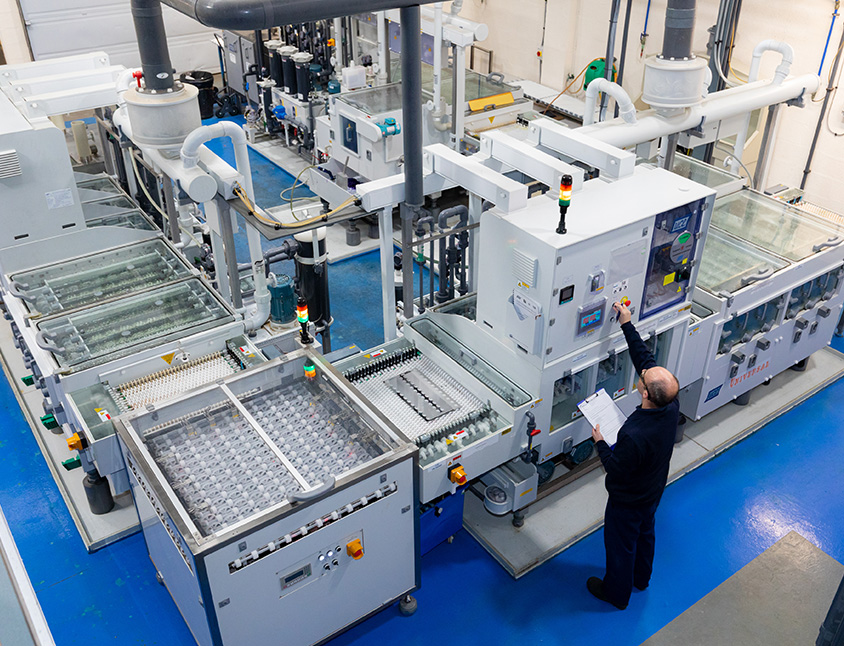 Changes are coming to Advanced Chemical Etching's Telford facility, with new machinery and renovations in the pipeline.
Several key improvements are being made to ACE's premises in Telford, while the team make way for the addition of new etching machines, expanding the facility's etching capacity further.
Renovations currently underway include the remodeling and expansion of ACE's CAD department, which will aid the design and manufacturing teams in processing increasing volumes of orders for precision parts with complex designs and exacting tolerances.
Improvements are also being made to the boardroom in readiness for the removal of previously-imposed COVID restrictions and the return of visitors and facility tours.
In addition, works are ongoing for the creation of dedicated, project-led, self-contained manufacturing cells.
The team awaits the delivery of new etching machines, which are currently undergoing final assembly and testing in the US. This new investment in critical machinery comes after record demand from customers who look to ACE to manufacture precision components within a two-week lead time, and will further enhance the manufacturing team's capacity and capability.
The news comes soon after previous announcements of new machinery installed to improve capacity at ACE's forming and quality assurance departments.
This is the largest order placed to date for this type of equipment, and highlights ACE's commitment to its continuous improvement and previously announced investment strategy.
The new machinery is anticipated to arrive in a few months time. Be sure to follow ACE on LinkedIn to be the first to learn about new developments and additions at the company.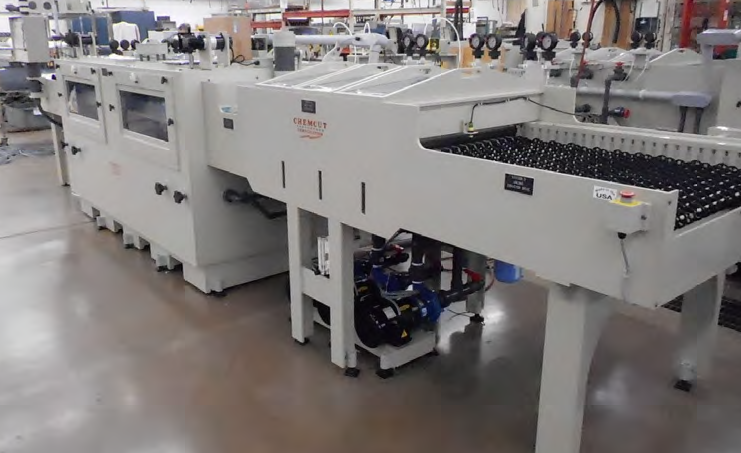 No matter your requirements, our expert team will work with you to produce the high performance, lightweight and reliable parts you need. Contact ACE today on 01952 416666 or email sales@ace-uk.net for an initial consultation.
ACE To Attend Hydrogen Tech Expo In March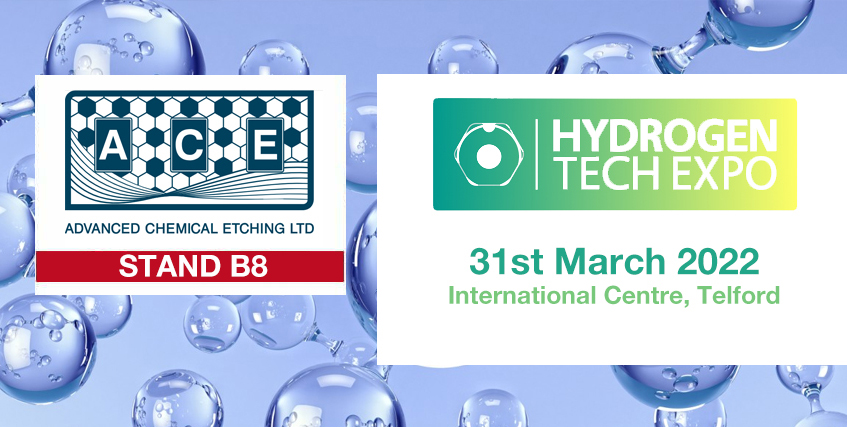 The next trade exposition ACE will attend, the Hydrogen Tech Expo, is scheduled for the 31st of March 2022.
The expo is a key event on the calendars of British and international engineering firms involved in the development and production of next-generation hydrogen technology.
ACE is a key manufacturing partner in the production of green transportation and fuel cell technology. The display will focus on chemical etching's role in developing and producing specialist metal parts suitable for the development of critical components used in hydrogen-based products targeted towards a range of industries.
The event is taking place at the International Centre in Telford, just a few miles away from ACE's facility, making it convenient for attendees interested in ACE's chemical etching offering to come and see the manufacturing process first hand.
The team are looking forward to meeting clients and partners both old and new at the event. Register your interest in a demonstration or facility tour – get in touch with the team today to find out more.
Find Advanced Chemical Etching's exhibition display at the Hydrogen Tech Expo, stand B8 on the 31st of March at the International Centre, Telford. Can't wait to get up close and personal with our chemically etched metal components? Why not request a free sample pack and inspect ACE's complex metal profile parts for yourself.