Advanced Chemical Etching – March 2022 Roundup
Published on 31/03/2022
In March Advanced Chemical Etching's sales team puts their chemical etching show on the road once again, attending the Hydrogen Tech Expo this Thursday the 31st. Also this month: new team members swell ACE's manufacturing ranks further at the Telford facility, and how you can discover superior precision metal parts for yourself with our chemical etching sample packs.
ACE Attending Hydrogen Tech Expo in Telford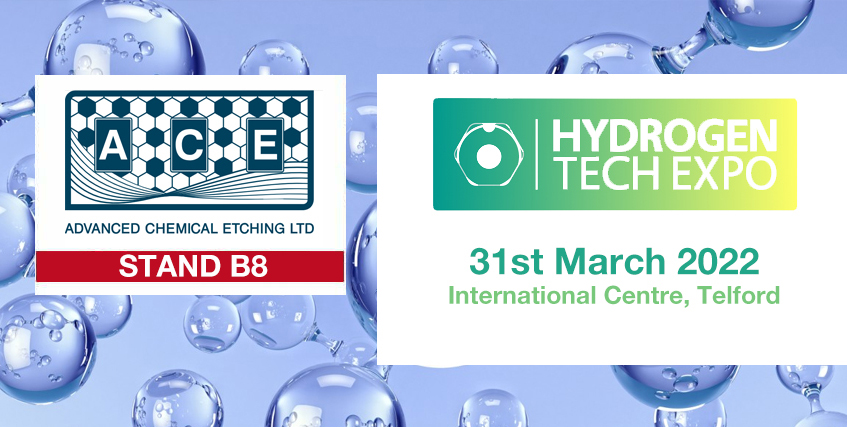 Today on March 31st the Advanced Chemical Etching team are exhibiting at the Hydrogen Tech Expo, at the International Centre in Telford.
The event, which takes place just a few miles from ACE's manufacturing facility, is a much-anticipated opportunity for technology and manufacturing firms to showcase the latest in hydrogen and green technologies developed both in the UK and internationally.
The sales team is exhibiting the latest in chemical and photo etching, where metal components are etched from a sheet using corrosive chemicals in a highly controllable, precise manufacturing process.
Unlike other manufacturing methods like stamping and machining, components produced using Advanced Chemical Etching's innovative chemical etching method do not have rough edges or burrs that traditionally require additional processes to remove. The resulting components are highly accurate, with tolerances that can be as low as 10% of a human hair. And because no heat is used, the integrity of the material is preserved.
ACE is heavily involved in the emerging EV and fuel cell markets, and has been instrumental in developing the latest and next generations of bi polar plates, heat exchangers, bus bars and other critical components.
Chemical Etching is uniquely suited for applications within EV and hydrogen vehicle development, critically in the development of battery systems, where thinner and lighter components are necessary for increasing the efficiency and range of future vehicles.
Find Advanced Chemical Etching's exhibition display at the Hydrogen Tech Expo, stand B8 today 31st of March at the International Centre, Telford, and chat to the team about what chemical etching can do for your next project. Can't make it to the event? Simply request a FREE sample pack and discover the superior precision and tolerances of chemically etched parts for yourself.
ACE's Teams Benefit From New Recruits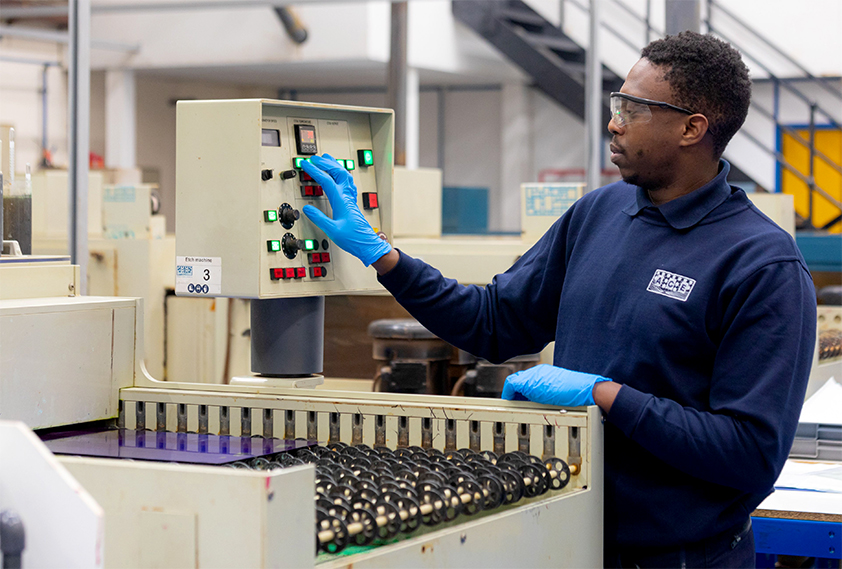 The team at the Telford-based manufacturing team continues to grow with the addition of 10 new employees since January.
The news follows new figures that show the team have smashed their previously published sales record, with growth in line with a previously announced programme of investment and expansion. The most recent outcome of this has been the addition of new capital equipment, dedicated manufacturing cells and the expansion of ACE's CAD department.
The new team members are being deployed throughout ACE's departments, with a focus on allowing them to flexibly react to different situations and requirements.
Supporting this is a bespoke training package based on the team's many years of experience refining the various manufacturing and inspection processes that have made ACE the "go-to" source for precision etched components with low lead times and high levels of flexibility.
This recent expansion to the team will further bolster throughput and maintain ACE's reputation for reliable, reactive service.
Keep up with all the latest from the ACE team, as it happens. Follow us on LinkedIn to be the first to learn about what's new, and to liaise with the team about your next precision engineering or manufacturing project.
Discover ACE's Precision Etched Components For Yourself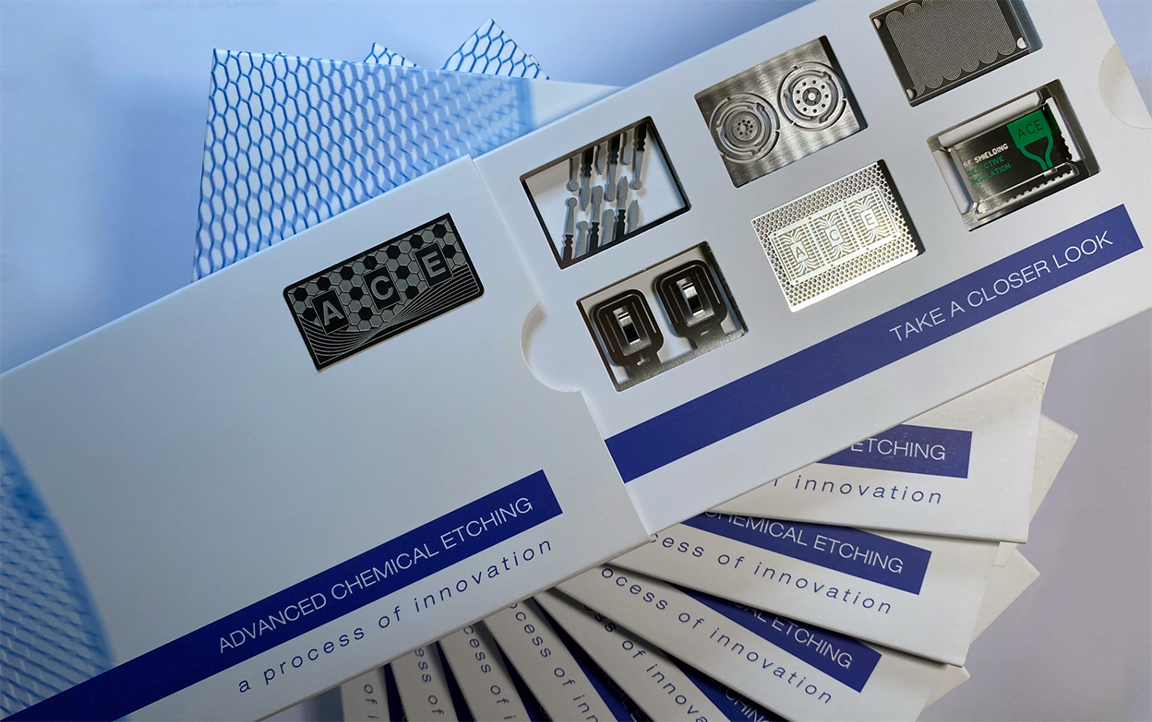 Our sample packs are designed to showcase the superior precision, tolerances and finish of ACE's chemically etched metal components.
The difference that chemical etching can make really must be seen to be believed. That's why you can have one of our sample packs delivered to your door, showcasing a wide range of metals in thicknesses of 0.005mm to 2.5mm. Precision is at the heart of what we do, and parts can be produced with tolerances as low as +/-0.025mm from prototyping to production series quantities.
Choose from our full sample pack, or our cooling plate sample pack tailored for the electric vehicle sector.
Simply visit our sample pack request page to get your FREE sample pack, and learn why so many precision engineering, medical, automotive and aerospace firms look to ACE for the highest quality, highest precision chemically etched parts.
No matter your requirements, our expert team will work with you to produce the high performance, lightweight and reliable parts you need. Contact ACE today on 01952 416666 or email sales@ace-uk.net for an initial consultation.