Advanced Chemical Etching – August 2022 Roundup
Published on 31/08/2022
This month ACE has been featured in Med-Tech Innovation News with a special Q&A article about the applications of chemical etching technology for the medical sector. Also in August: news from our team in the quality control department, and details of an exhibition to take place this year.
Want to stay up to date with all the latest from ACE? Connect with the team on LinkedIn today and be part of the conversation.
ACE Q&A: The Uses of Etching in Medical Device Manufacturing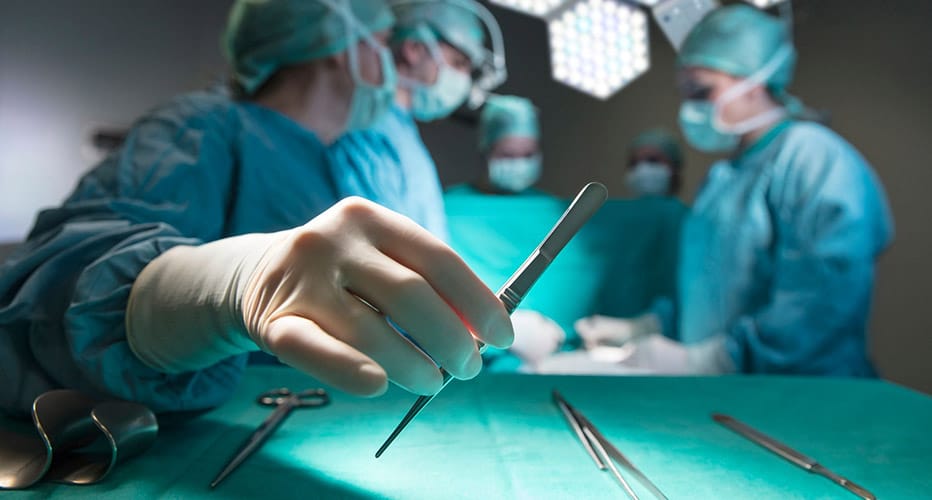 This month Advanced Chemical Etching was featured in a special Q&A article in the online medical technology publication Med-TechNews.com.
ACE's technical sales manager, Gary Marriott, gave an update on the latest process innovations developed by ACE and how advances from the team's research & development department have changed what is possible when designing medical devices and improving the safety of the chemical etching process.
For those that don't know, tell us about ACE?
"Located in the heart of the UK, Advanced Chemical Etching Ltd (ACE) uses innovative chemi etching processes to manufacture precision metal components from prototypes to volume, providing today's product development engineers greater flexibility in design and shorter lead times. ACE is the leader in innovative metal etching in the UK and supplies many sectors with precision metal etching– making the difference in innovation, technology and manufacturing."
Tell us about your etching process, what is different about it?
"While etching is conventionally viewed as a 'black art' where methods evolve through experience and trial and error, ACE has adopted a much more systematic approach based on scientific research. Several of the steps involved in the etching process are chemical in nature, so a fundamental understanding of the chemical phenomena that occur in these processes is important. This is why ACE has invested heavily in Research & Development over the past ten years and our new unique and innovative aluminium and titanium etching process is a testament to the power of this approach."
Can you give us a simple step-by-step guide of the process for us?
"Photo etching is the process of using ultra-violet light to fix an image onto a sheet of metal through a low-cost digital tool, and then using chemicals (etching solution) to etch the shape into the metal, removing more and more of the material until only the shape is left – a metal component that is far more precise than anything that can be cut or machined. Photo etching is a very precise method of metal cutting and etching to produce designs on flat sheets of metal with thicknesses up to 2.5mm. Due to the nature of this process, it is possible to photo etch parts with an unrivalled level of complexity, incorporating special features, in most metals, with thicknesses ranging from 5 μm to 2.5mm. The resultant components produced by precision chemical etching are stress-free with no burrs or rough edges and with no changes to the original material properties."
Discover a full step-by-step breakdown of ACE's chemical etching process and learn more about the benefits of chemical etching over other manufacturing methods.
How long has it taken you to evolve the process to what it is now?
"Working closely with Academia, and adopting a scientific approach, since its inception in 2000 we are constantly reviewing our capabilities in line with industry needs. Utilising our fully equipped in house laboratory we are able to investigate the possibility of etching previously difficult to etch materials utilising XRF based research to investigate down to the molecular level for both material and chemistry."
How important is this process to the medical device industry?
"Advances in the medical sector are progressing rapidly and many companies are being left behind in the pursuit for cutting-edge products.
This has created many new challenges, not least in the increase in demand for titanium and titanium alloys used for medical implants and cathode grids used in pacemaker batteries.
Titanium is renowned for its strength and lightweight properties, but it is difficult to etch due to it rapidly forming a protective oxidised coating when exposed to air. Traditionally, Hydrofluoric Acid (HF) and Nitric mix has been used as the preferred etchant, but it is a highly dangerous and toxic material and one we are not keen to use.
Instead, we have developed a new solution. ACE has responded by investing time and money into developing a NON-HF unique process for etching titanium and its alloys. We can successfully etch and profile metal for customers involved in producing intricate medical devices, which may have complex mesh patterns or require micro-etched channels."
Learn more about ACE's revolutionary NON-HF process for etching titanium and how this process improves safety and reliability without compromising on quality.
Discover how chemical etching from ACE can give your team the edge in the medical sector – our expert team will work with you to produce the high performance, lightweight and reliable parts you need. Book a call with one of our technical sales engineers today to discover more.
Quality Clinic's Tracey Secures Assistant Quality Manager Role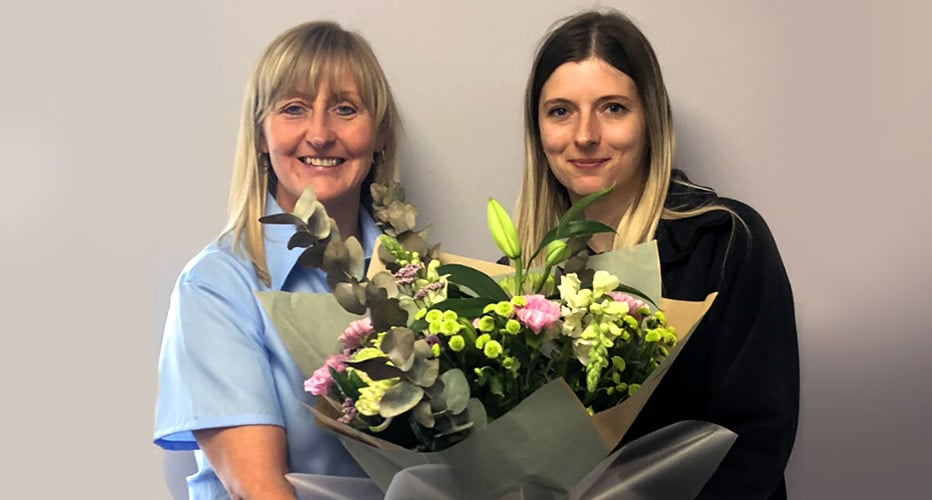 ACE's Tracey Ayton's recent success as part of the Quality Clinic initiative has earned her a promotion to the role of Assistant Quality Manager.
The news comes soon after the Quality Clinic team were awarded an accreditation for the successful implementation of QA procedures in collaboration with key partner Collins Aerospace.
Tracey, who joined the team in 2015 as an inspection operative, has been instrumental to the success of the initiative owing to her passion, drive and ability to develop her own practice. Following the completion of team leader training, Tracey moved up to the position of Inspection Team Leader in 2019, fuelling her interest in progression and eventually leading to this most recent appointment.
It was from there that Tracey, along with members of senior management, were enrolled onto the Quality Clinic team – continuing her training and leading to ACE's certification earlier this year. Since then she has rolled out this training package to the rest of the company.
The team at ACE are so proud of Tracey and her personal achievements over the last 7 years, as well as the contribution she has made to our already excellent quality standards.
"I'm excited and privileged to take on this new role. I'm passionate about quality and have enjoyed implementing the quality clinic and using it to help to build a strong quality ethos throughout ACE."
ACE are currently working towards securing AS9100 (Aerospace standard) and are confident we will achieve this with the excellent calibre of employees like Tracey and the rest of the team, who are committed to producing extremely high customer quality.
Keep up to date with news from the ACE team. Be sure to subscribe to our monthly newsletter to be the first to receive the latest updates.
ACE At Precision Fair 2022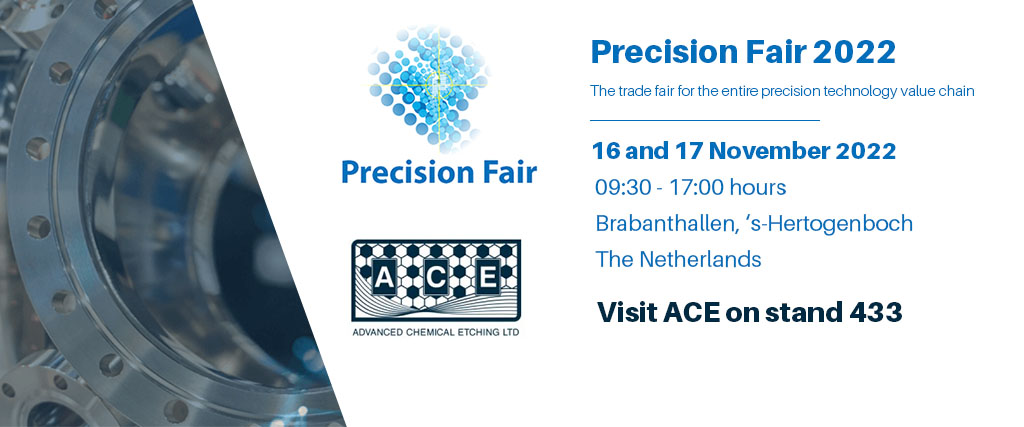 Advanced Chemical Etching will be taking their exhibition show on the road once again, this time to The Netherlands to take part in Precision Fair 2022.
Come and visit ACE's new exhibition display on stand 433 on the 16th and 17th of November, 2022 between 9:30 – 17:00 at the Brabanthallen in 's-Hertogenbosch, The Netherlands!
For over 20 years Precision Fair has been the annual meeting point for precision technology in Europe, with over 300 companies expected to exhibit ranging from precision engineering firms, manufacturers, technology designers among many others. This 2-day event will host conferences, panels, a networking arena for universities & colleges, as well as plenty of opportunities to discover the latest in innovative metal components manufacturing.
Following disruption to events like Precision Fair in 2020 and 2021, a return to regular in-person events gives our European clients and partners a chance to meet with our technical sales engineers, get hands-on with chemical etching and discover the benefits for their own manufacturing and design projects.
The news comes following a marked increase in customers from Europe requesting facility tours and meetings at ACE's Telford facility following the relaxation of COVID-related restrictions.
Visit ACE at Precision Fair 2022 in November. Can't make it to the event? Arrange a meeting with our expert team and discover chemical etching as a solution for your next precision engineering project. Contact ACE today on 01952 416666 or email sales@ace-uk.net for an initial consultation.