Advanced Chemical Etching – May 2022 Roundup
Published on 31/05/2022
This month Advanced Chemical Etching unveils the exciting outcome of a previously announced supplier development programme headed by a key international partner. Also in May: the ACE Technical Sales Team meet with clients at Silverstone, and details of our next upcoming exhibition. Read on in our monthly news roundup.
We'll be detailing how the hard work of ACE's quality assurance team and a company-wide "quality culture" has led to Advanced Chemical Etching's achievement of an accreditation from a key partner. We'll also recap the Technical Sales Team's attendance at the recent Battery Tech Expo in Silverstone, as well as share details of another upcoming exhibition where you can discover chemical etching for yourself.
QA Team Helps Secure Accreditation With Collins Aerospace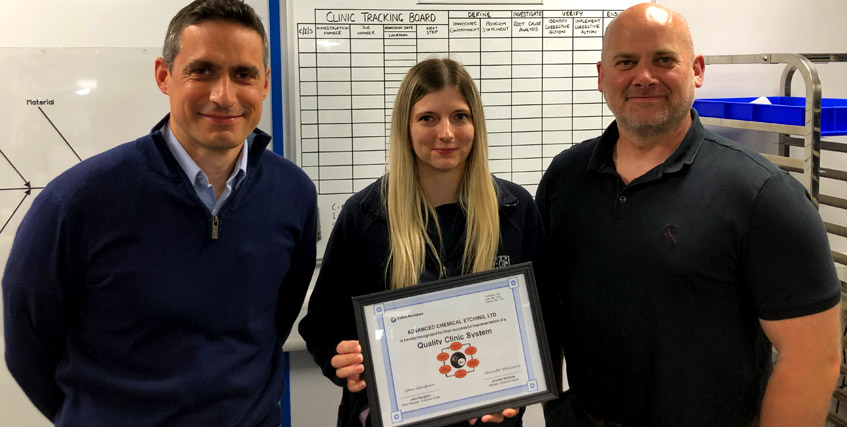 The Quality Assurance Team at ACE have helped deliver an excellent result for the previously announced collaboration with Collins Aerospace as part of a continuous improvement and supplier development programme.
In May Advanced Chemical Etching were awarded an accreditation for the successful implementation of a quality clinic system by the international aerospace and defence firm Collins Aerospace.
First announced in 2020, the supplier development programme spans a larger continuous improvement and investment drive at ACE's Telford facility, with improvements in process control, quality assurance and technical leadership securing even better results for capability, capacity and customer satisfaction than ever before.
The recent accreditation is another step on the road to achieving 'Gold Supplier' status, which requires 100% right first time and on time delivery in full score for a period of 2 years, as well as a continuous commitment to root cause analysis as part of ACE's QA procedure.
Last year ACE launched a "quality clinic" initiative, designed to facilitate the investigative methods and analysis necessary to help meet the quality targets set out by the supplier development programme.
In addition, robust processes were put in place to ensure ACE's excellent delivery on time record would be maintained, overcoming any potential disruption that the United Kingdom's departure from the EU may present. This included proactively securing supply channels during a period of prolonged volatility within worldwide metals supply.
These measures, along with regular collaboration and training with the team at Collins Aerospace, are ensuring that ACE is on track to achieve 'Gold Supplier' status.
Having started the Quality Clinic Process in October 2019, ACE have taken the initiative and used the time to improve not only the quality of production, but the knock-on has been an increase in business OTD, a reduction of internal scrap, improved throughput a resulting in higher RFT ( Right first Time) with less rework and repair. A credit to The ACE team as they have made the process their own and are continuously striving to improve.
Stay up to date with all the latest developments on ACE's continuous improvement program. Join us on LinkedIn and be part of the conversation. Want to discuss a project or learn more about our precision chemically etched components? Get in touch with our team.
ACE at the Battery Tech Expo 2022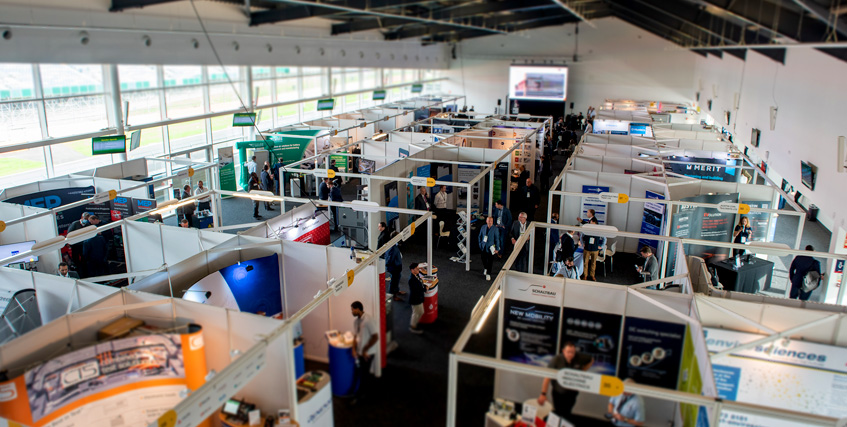 In May ACE attended the Battery Tech Expo at Silverstone, an important event in the calendar of both British and international developers of EV and innovative battery technology.
The event drew a diverse range of innovators and producers of EV and innovative battery technology with key engineering and manufacturing firms in attendance.
The latest technologies in battery storage, battery management systems, lithium-ion batteries and much more were showcased at the event. ACE exhibited the latest in chemical etching and precision component manufacturing, while discussing the benefits of chemical etching within the battery system development space.
The Technical Sales Team used the opportunity to liaise with existing clients and partners, as well as develop new relationships with firms looking for a more precise and efficient method of metal component manufacturing.
ACE received excellent feedback from the event, with attendees focusing particularly on the team's clear and straightforward explanation of the chemical etching process and its benefits relevant to battery technology.
"Pleasure meeting you last week! I've already dropped a message in to your contact us section, requesting for some samples as well as the desire for a call with the view to discuss new projects."
"It was good to speak to yourself last week, thank you for telling us all about the process and different things that can be achieved with it, it was really interesting."
"I am sure that once we have some CAD knocked up we will be giving you a call."
Can't wait to discover how chemical etching could work for you? Order your FREE sample pack today and get to grips with ACE's precision chemically etched components for yourself.
Upcoming Exhibition – ACE at the Vehicle Electrification Expo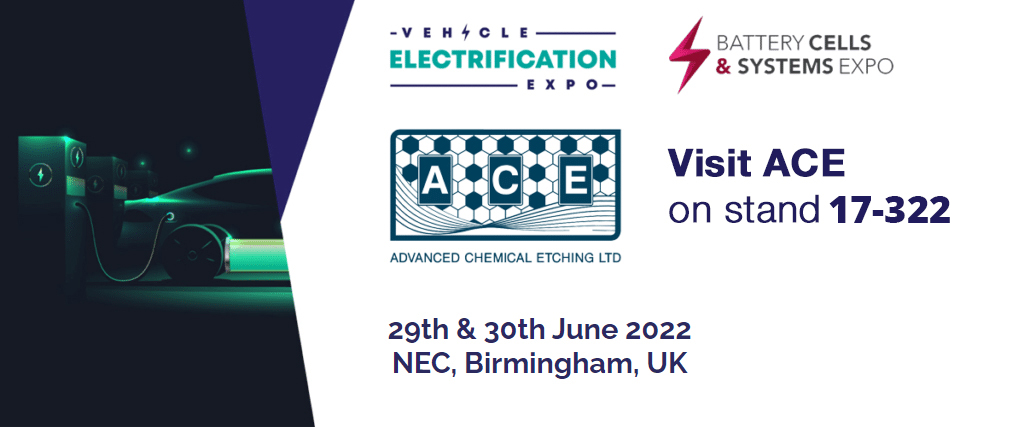 Advanced Chemical Etching will exhibit at the Vehicle Electrification Expo on the 29th and 30th of June 2022 at the NEC, Birmingham.
With exhibitions back in full swing after COVID disruption forced many events to postpone, ACE are busily preparing for the Vehicle Electrification Expo at the end of June.
The Vehicle Electrification Expo is one of the UK's key annual events catering to the EV, aerospace, renewable energy and electronics sectors, with over 4,500 attendees and 300 exhibitors expected to attend.
The event is held in conjunction with the Advanced Materials Show and the Battery Cells & Systems Expo, creating unique opportunities for collaboration and networking between industry professionals, manufacturers and suppliers.
The Technical Sales Team will be on hand to showcase the latest developments in etching for metal components manufacturing, and demonstrating how the superior precision and exacting tolerances offered by chemical etching provide exciting benefits for the development of next-generation battery systems.
Come and visit Advanced Chemical Etching's exhibition on stand 17-322 of the Vehicle Electrification Expo and discover how the lightweighting and precision advantages of chemically etched metal components can benefit your next project. Can't make it to the event? Why not get in touch and schedule an online meeting or in-person facility tour with the team to discuss your project?
No matter your requirements, our expert team will work with you to produce the high performance, lightweight and reliable parts you need. Contact ACE today on 01952 416666 or email sales@ace-uk.net for an initial consultation.