Advanced Chemical Etching – July Roundup
Published on 30/07/2020
July has been a month of new growth, expansion and innovation at Advanced Chemical Etching, with the team focusing on bringing precision etched metal parts to new markets and industries through a continued focus on reliable, safe and uninterrupted production. Find out all the latest news from ACE this month in our July roundup.
Our monthly news roundup will cover the launch of Advanced Chemical Etching's new German website, supporting a drive towards expansion within Germany and elsewhere in Europe. July also sees ACE ramp up capacity to meet increased customer demand, working with COVID-safe procedures, as well as welcoming new and existing clients to take part in safe and socially distanced digital meetings.

New Website Launched – ACE DE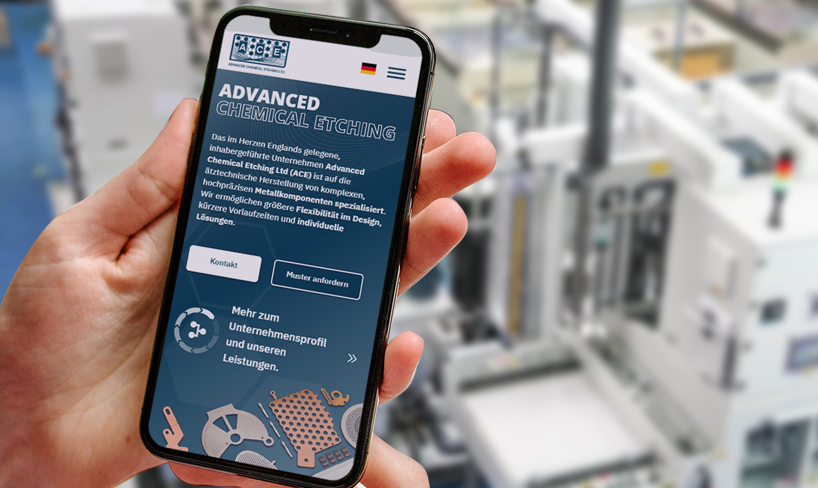 This month a dedicated German-language ACE site was launched – ace-uk.net/de
The site, which can be accessed by clicking the flag icon in the top-right of the screen, represents a curated sample of the content on the English site, designed to communicate ACE's precision metal etching capabilities to a new audience while demonstrating the unique aspects of ACE's flexible manufacturing service offering.
Advanced Chemical Etching has previously announced a new growth strategy which includes catering more heavily towards an export market, producing metal components for cars, planes, drones, satellites and medical devices for companies in Europe and beyond and supporting precision engineering projects both at home and internationally.
With recent lockdown measures restricting travel and forcing many industry and trade events to move to digital platforms, there is an even greater need for strong communication with international clients and partners.
Stefanie Williams, who has recently been appointed to the role of Internal Export Sales Manager, expressed her feelings on the new German site;
"In line with our strategic focus on the D-A-CH markets, we recently launched our brand new German-language website. I am extremely pleased with how it has turned out, as it provides visitors with a great impression of our etching capabilities and the facility to contact us requesting samples. I invite you to have a look on https://ace-uk.net/de/ or switch to the German language version using the icon in the top hand right corner."
Stefanie has been overseeing the development of the German site as part of a drive to develop ACE's European sales network and expand in line with new expansion opportunities. In addition, she has also lent her translation skills to the project, ensuring that ACE's product offering resonates with this new market.

Telford Facility Ramping Up Production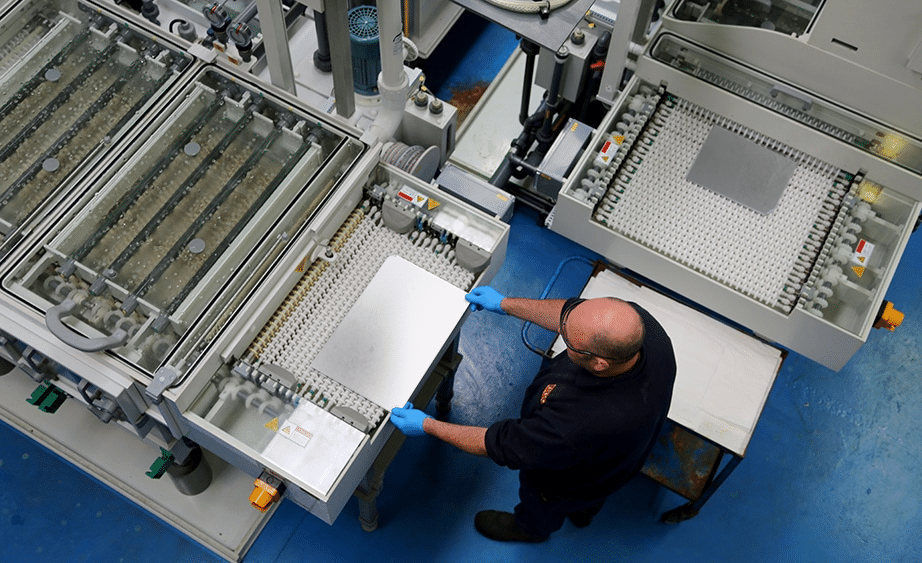 ACE has returned to full capacity in July, responding to increased client demand and ensuring continued uninterrupted service provision through the summer.
As restrictions begin to ease and manufacturing sites throughout the UK, Europe and internationally come back online, ACE has seen a large increase in enquiries and orders of precision etched metal components.
Manufacturing operations at ACE have reinstated a 2 shift system as demand from both existing and new clients increases. This surge has been attributed to firms resuming engineering and manufacturing projects put on hold in recent months, now attempting to make up for time lost by accelerating schedules. In response, ACE has put measures in place to keep up with customer requirements within the desired lead times.
Gary Marriott, Technical Sales Manager, has welcomed the new measures;
"ACE has continued manufacturing & supporting key customers throughout the pandemic, maintaining quality and delivery focus. Now, as more of our customers are returning and trying to get back to normal, we continue to increase capacity and maintain uninterrupted production to satisfy demand, whilst at the same time ensuring we strictly adhere to all COVID-safety measures to ensure the safety of our workforce and families."
Work at the Telford facility has continued throughout the COVID lockdown, with safe working and social distancing measures put in place to protect staff.
ACE's quick action to adapt the facility and internal procedures for COVID-secure working have meant the company is in a strong position to continue providing the same high-quality components, as well as superior service and support throughout the summer holiday months and beyond.

ACE Geared Up For COVID-Safe Meetings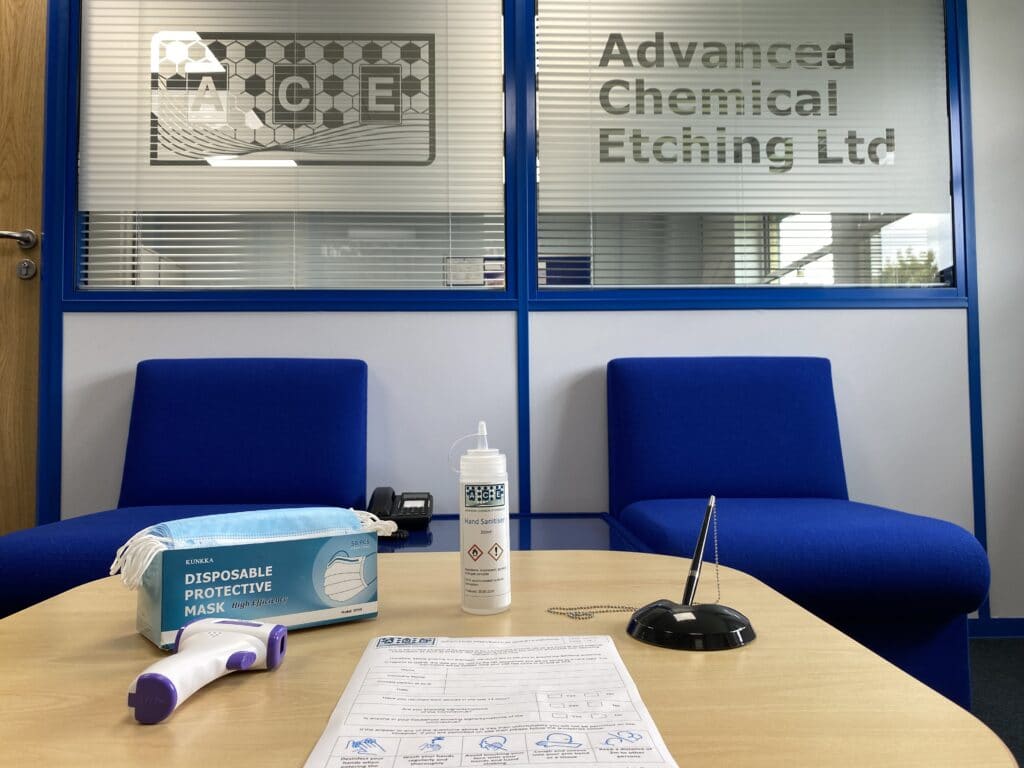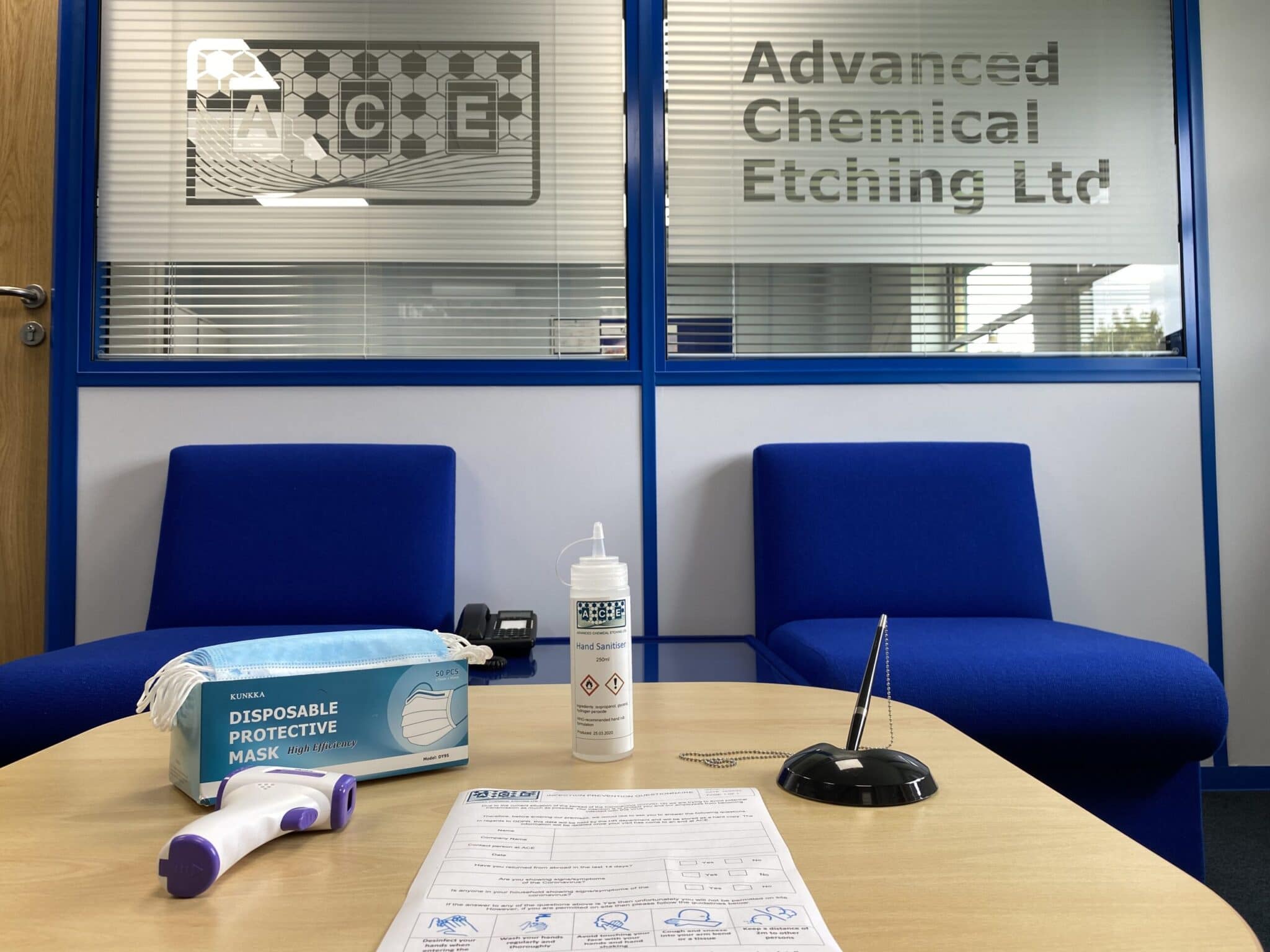 ACE is now fully equipped to welcome visitors for facility tours and meetings with new COVID-secure measures in place.
The Telford manufacturing facility can once again host tours and meetings, utilising social distancing and hygiene measures to maximise the safety of staff and visitors.
Infra-red thermometers, face masks and hand sanitiser produced by our own Research and Development team all play a key role in maximising safety during facility visits. In addition, a strict limit on the number of visitors present at a time will be imposed, with no more than 2 people per party admitted.
While physical meeting procedures have been put in place, web meeting procedures have been refined to allow remote client meetings and product demonstrations to take place using a variety of digital platforms.
In recent months the team have become experienced in the use of a wide variety of online meeting platforms including Skype, Webex and Zoom, ensuring a good level of flexibility for clients and partners to meet in a way that is convenient for them.
With the introduction of these COVID-secure measures and the continuation of digital meetings, it is hoped that clients and partners will remain able to access the experts at ACE for advice and to discuss project requirements in a way that is safe and convenient. Why not schedule a facility or digital meeting and learn about ACE's etching capabilities first-hand?
No matter your requirements, our expert team will work with you to produce the high performance, lightweight and reliable parts you need. Contact ACE today on 01952 416666 or email sales@ace-uk.net for an initial consultation.