ACE November Roundup – Book An Online Tour
Published on 08/12/2020
Advanced Chemical Etching is gearing up to welcome you on a range of new digital tours and meetings throughout the rest of the year and into 2021. Learn more about digital tours from ACE and how you can become one of the first to experience ACE's chemical etching process from the comfort of your own home or office.
In this special news roundup, we focus on ACE's work throughout the month of November to bring new digital touring and meeting experiences to our clients and partners. Read on to learn how to join in on our safe and socially distanced digital tours and meetings.
ACE Launches Digital Facility Tours And Expert Digital Meetings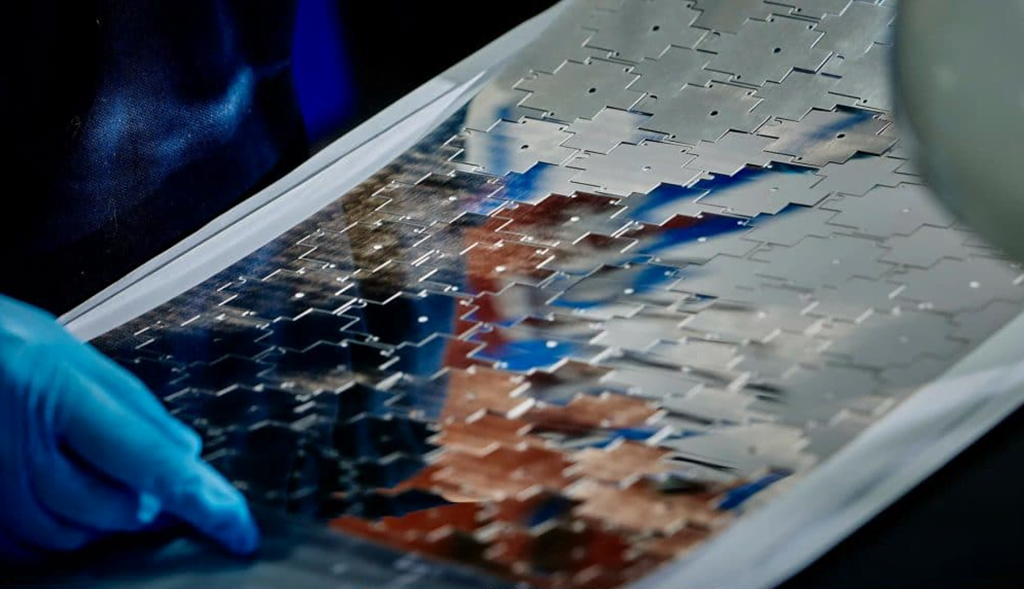 After plenty of testing and development, the ACE team are ready to welcome you on an online digital facility tour or expert digital meeting to demonstrate our unique chemical etching process and our quality chemically etched metal components.
As a result of the ongoing global health situation, many companies who would traditionally meet with clients and partners in person have pivoted to offering digital meetings online. These measures have extended to industry expos and seminars, with recent events such as MedtecLIVE and Precisieburs instead opting to move online.
Throughout the year the ACE team have paid close attention to changing government advice, as well as client feedback regarding our popular facility tours and expert meetings. The team have experimented with a number of different options, including providing safe, in-person meetings whenever possible.
ACE has now opted to invest in the technology and skills required to offer fully-featured online facility tours and expert digital meetings, accessible to all clients and partners. These online meetings will allow the team to demonstrate our unique chemical etching process and superior precision metal components, and to discuss the varied applications of precision metal component manufacturing suitable for a wide range of industries and sectors.
Check out our video taster produced by ACE's own Stefanie Williams as she demonstrates the video tour setup in action.
Join Or Schedule An Online Tour Or Meeting
Joining an ACE online facility tour or expert meeting couldn't be easier. Simply head to the meeting request page and enter your details on the form. A member of the team will then email you to confirm the tour/meeting date and time and forward an invite link to the chosen event.
New status indicators have been added to the ACE website so you can tell at a glance when tours and meetings are operational (green status light). When this status indicator is orange, you will instead be prompted to schedule an event when the team is available.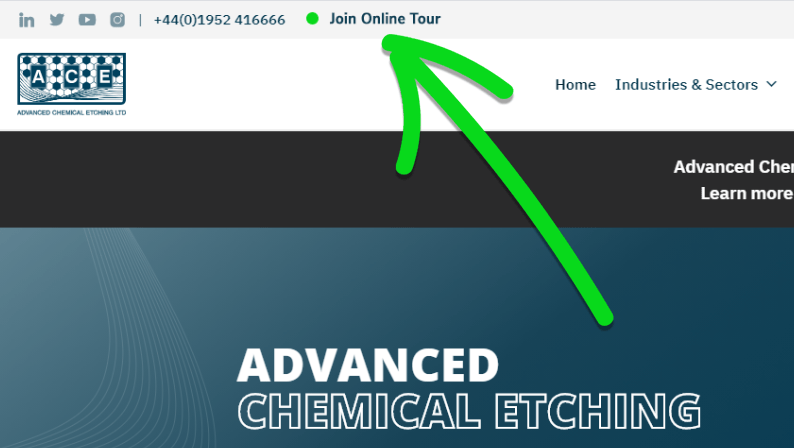 At present ACE can host meetings and tours using Skype and Cisco Webex. If you require a different platform contact the team who will advise on the best solution.
Keep Up To Date With ACE On Linkedin!

For all the latest news and updates from Advanced Chemical Etching make sure to follow us on Linkedin! By connecting with the team on Linkedin you'll see updates from ACE before they are published in our newsletters and receive the latest announcements about upcoming events and exhibitions. Head over to Linkedin and connect with Advanced Chemical Etching today!
Order A FREE Sample Pack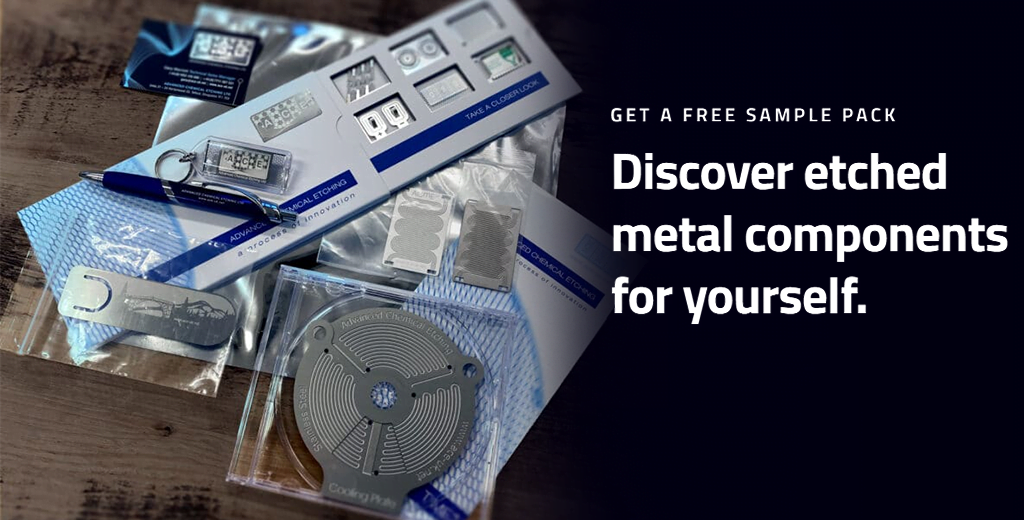 You can always discover ACE's quality etched metal components for yourself by ordering a FREE sample pack. ACE's sample packs let you inspect the high precision and tight tolerances possible through ACE's chemical etching process first-hand. Head over to the sample request page to arrange a sample pack order today.
No matter your requirements, our expert team will work with you to produce the high performance, lightweight and reliable parts you need. Contact ACE today on 01952 416666 or email sales@ace-uk.net for an initial consultation.