Advanced Chemical Etching – January 2022 Roundup
Published on 26/01/2022
With a new year comes news of excellent early results from the Advanced Chemical Etching (ACE) team. Also in January: mitigating delivery delays and working through a challenging industry landscape, and ACE gears up to attend its first exhibition of 2022.
In this first news roundup of the year, we're covering ACE's extremely strong start in January, as well as the measures the team are taking to help customers navigate through challenging global conditions for manufacturing. We'll also be sharing details of ACE's first exhibition of 2022, and how you can get up close and personal with the latest innovative chemically etched parts used in the EV and hydrogen fuel cell sectors.
ACE Starting Strong In January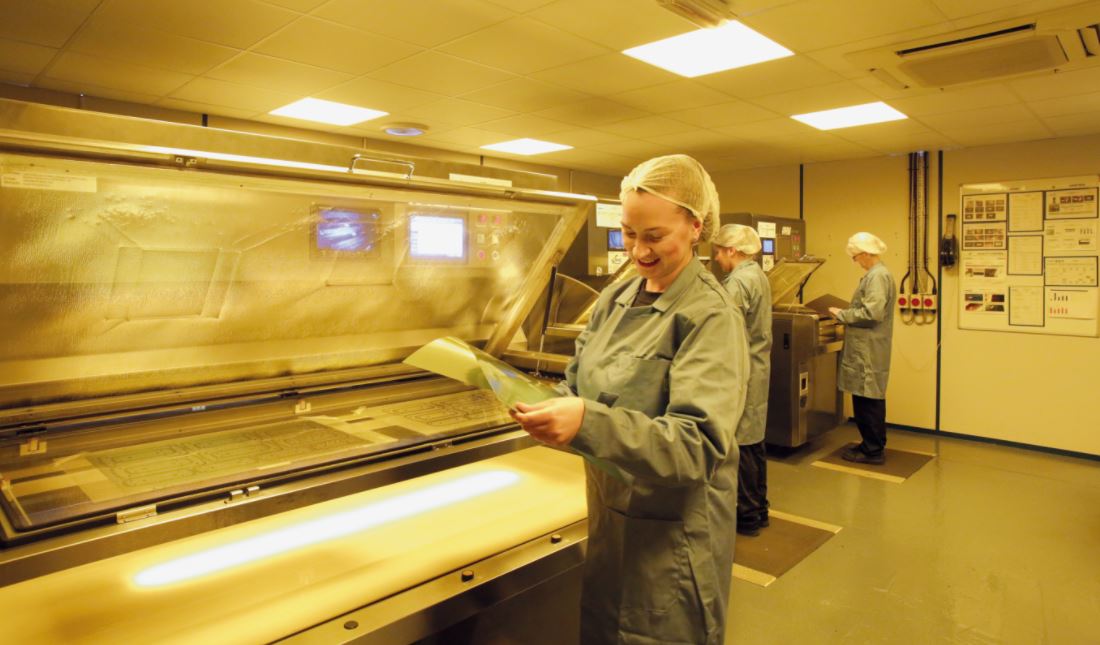 The new year has started off extremely strongly for ACE, with sales records smashed early in the year and plans for further expansion within the manufacturing team.
As the demand for high precision chemically etched parts and components continues to increase, ACE are seeing extremely strong sales results at this early stage of the year.
This follows strong sales growth in 2021, with the sales team recording their largest-ever monthly intake of orders in November. More recent figures confirm that sales had increased in the last financial year by 37% over the year previous – despite the pressures represented by the COVID pandemic affecting ACE's manufacturing as well as the wider industry.
ACE's growth strategy has been successful in part thanks to strong relationships with clients and partners, as well as the signing of yearly purchase agreements with some key clients and suppliers.
While 2021 saw a high level of investment in both equipment and personnel at the Telford-based facility, a plan to further boost manufacturing capacity is currently being developed. Early indications project that the manufacturing team is set to grow by 10% this year.
While ACE has welcomed this positive start to the year, the team remains cognisant of challenging global conditions that continue to affect manufacturing in a wide range of industries.
Earlier in 2021 ACE put in place a number of measures designed to mitigate the effects of supply chain volatility. This included working proactively with customers to ensure blanket order cover is in place for key articles. Further action was taken later in the year to ensure the continued steady supply of metals by strengthening relationships with suppliers and securing contracts at an early stage.
Advanced Chemical Etching is committed to minimising any disruption to customers. The team are maintaining an open dialogue with clients who may experience delivery delays, and are working hard to ensure a continued uninterrupted supply of critical components. Please stay tuned to future news releases for further updates.
Discover why so many precision engineering and manufacturing firms choose ACE for highly accurate and complex metal parts and components. Get in touch with the team to learn about our superior etching capability and discuss your project today.
ACE At The Southern Manufacturing & Electronics Expo 2022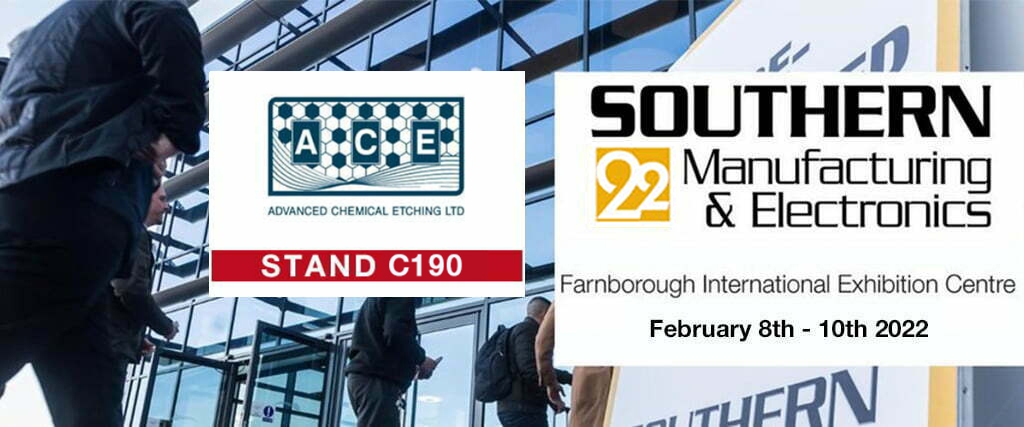 The ACE team are gearing up to take their show on the road once again with the first exhibition of the year scheduled for February 8th – 10th.
The Southern Manufacturing & Electronics Expo is set to take place at the Farnborough International Exhibition Centre in February.
The expo is a national showcase of the latest in innovative electronics engineering and manufacturing, attended by a range of engineering SMEs, as well as larger suppliers and manufacturers.
After being delayed from its original scheduled date of October 2021, the team are keen to use the opportunity to liaise with clients and partners during this important annual industry exhibition, as well as to demonstrate the latest advances in chemical etching and precision metal components manufacturing.
This year's offering from ACE will be centered around the exciting and growing electric vehicle and fuel cell industries, showcasing key parts used in EV and hydrogen fuel cell manufacturing.
Find Advanced Chemical Etching's new exhibition display at stand C190 from the 8th – 10th of February at the Farnborough International Exhibition Centre. Can't wait to get up close and personal with our chemically etched metal components? Why not request a free sample pack and inspect ACE's complex metal profile parts for yourself.
No matter your requirements, our expert team will work with you to produce the high performance, lightweight and reliable parts you need. Contact ACE today on 01952 416666 or email sales@ace-uk.net for an initial consultation.